CHANGING THE GAME: Lincoln High athletes show off skills at state level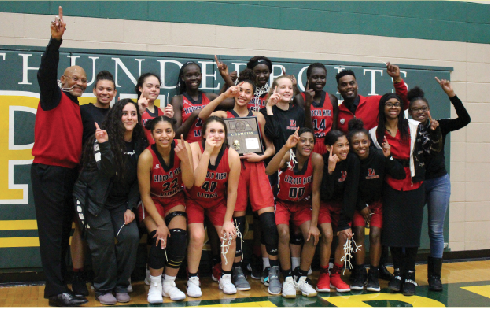 Hang on for a minute...we're trying to find some more stories you might like.
By Porshe Miller – Sports
"Don't knock it unless you try it. Anyone can do wrestling it is having that passion and drive for something you enjoy," head coach of the wrestling team Andrew Genrich stated.
Whether it's an individual sport such as wrestling or team sport such as swimming there is always a chance to get to your dream of state with hard work and dedication. According to Genrich, junior Drake Krogh is a perfect example of this because he just started this year and contributed a ton to the team. In any sport there is a chance to go to state and for many that is the drive for how well they do in their sport.
In wrestling for the 2017-2018 school year 8 wrestlers went to state which including Freshmen Korbin Arnold at 106 pounds, Quinn Thew at 138 pounds, Sophomores Plat Plat Soe at 120 pounds, Jackson Okereke at 132 pounds, Juniors Isaiah Alford at 170 pounds, Marcel Austin at 182 pounds, Drake Krogh at 220 pounds, and Senior Abel Barrientos at 195 pounds. Isaiah Alford is a state champion and Marcel Austin came in 6th place at State as well. As a result of contributions of all team members it will help the football program because their foot and hand control have improved throughout the season. All of this is accounted for by the fact that team members do-off season wrestling.
Eighteen students made it to state for swimming and diving this year including Freshman Katie Smith, Sophomores Charles Sieglaff, Aaron Harris, Wail Labrouchi, Breckin Killingsworth, Isaiah Winston, Nella Maynard, Harper Lawson, Juniors Johanna Schubert, Anna Sump, Emily Smith, Colleen Arnold, Kiara Winston, Max Pearson, Sam Mitchell Sturgeon, and Seniors Jonas Sieglaff, William Vierra, and Matt Schultz.
There were four girls that broke and set a new school record for the 200 Free Relay and finished as a group in 6th place at state that included Emily Smith, Katie Smith, Colleen Arnold, and Johanna Schubert.
As well as, four girls set a new school record for the 200 Medley Relay and were 11th at State. Johanna Schubert was 10th in the 50 free and 9th in the 100 free, Jonas Sieglaff was 9th in the 50 free and 10th in the 100 free, and Isaiah Winston was 6th in Diving.
Richard Conradt a coach for the swimming team said, "There is really nothing magical about any of these results in the sense that anyone can achieve great things when they set their minds to it and then take the preparation to make it happen. If they are special it is because they put aside their insecurities, egos, and personal preferences to come together as a group and work towards a goal. And lastly, they competed without fear.
In other words, they are common people, just like us all, who had a goal and achieved it. In today's world that may seem trite, but I think if you asked them, they would attribute their success to hard work, and being around a group of like minded individuals who worked together, nothing special other than when humans do that great things can happen, and great things happened for this group, and the team as a whole."