Boys Varsity and JV soccer bring the heat against Northeast on a chilly Monday night
Hang on for a minute...we're trying to find some more stories you might like.
By Angel Tran – SPORTS –
With temperatures dropping down to nearly 35°, both Varsity and JV Boys Soccer Teams rose above to take home their sweep against Lincoln Northeast Monday night at Seacrest Field.
Varsity tied up their game perfectly with a bow and won their game 3-1, keeping Northeast from scoring for the back end of the first half and the entirety of the second half.  Junior Varsity kept the score 1-1 until the last eight minutes of the game when the Links scored two goals seamlessly.
VARSITY:
After the Rockets scored in the first 20 minutes, Lincoln High dominated the rest of the game with three points by senior Simon Joseph, junior Walfred Salazar, and sophomore Wail LaBrouchi.  Using the other team's weaknesses to their advantage, Joseph found a way to make his attack early in the game.
"I realized that they were going to make a pass to the center back [defense player], and I just assumed that if I pressured him, he might lose the ball and he did," Joseph said.  "After that, the only thing on my mind was to score."
Lincoln High is currently 3-6 overall, and on their third win in a row so far this season..and they're looking to win some more.  With their next game this Thursday night at home against 3-6 Norfolk, the Links are already preparing to add to their winning streak.
"I personally will watch their [Norfolk's] film to know how their defense works," Joseph said.  "As a team, we will work on communication and continue to get better on playing quick.  I think we have a really good chance to win if we are faster and keep our shape and composure."
So what can we expect?  Here's what we know so far:  Norfolk, also started their season with a few tough losses–both schools losing to Grand Island, North Star, and Kearney.  However, both beat Fremont.  One aspect that might change the game is that last Thursday, Lincoln High beat Lincoln Southeast 1-0, and Norfolk is set to play them tonight in Lincoln.
JUNIOR VARSITY:
This tight game was packed ton of close goals, close penalty calls, and close players.  Freshman, Julian Noriega, who led the team with goal attempts, took a shoulder to the face and a knee to the shin, being the only officially injured player of the night.
"When I got hit and fell to the ground, I could taste blood and I knew something was wrong," Noriega said.  "I stayed down and started to feel the pain a lot more and I continued to hold my face."
At the time, midway through the second half, the score was still 1-1.  Shortly after Noriega was walked off the field, eight minutes later, the Links scored twice by freshman Andy Aguilar, keeping the clock running for the remainder of the half and finishing the game 3-1.
"Overall, we came with hustle and ended with hustle which made it a good game," Noriega said.  "We struggled to play wide on both sides, but at halftime, we recognized our mistakes and fixed them in the second half.  When we started to play wider, their defense started to break and made it easier to get through and score.  It was a great game. We've got a 2-2 record, [and we are] about to make that 3-2 come this Friday."
The Links will be playing Crete, who is currently 5-1, this Friday at 6:30 PM at Beechner Athletic Complex.
About the Writer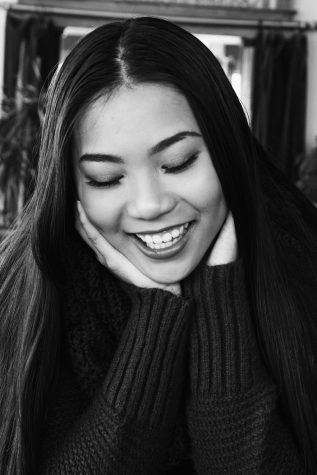 Angel Tran, Editor-In-Chief
"So live. Live. Fight like hell. And when you get too tired to fight, lay down and rest and let somebody else fight for you." -Stuart Scott



Hey...