Headbands from the Heart: Students make colorful gear to raise school spirit
Hang on for a minute...we're trying to find some more stories you might like.
By Angel Tran | Feature |
Senior Zeke Williams and junior Tyler Schumacher have relentless school spirit, and this fall season, they put their own money into it.
Spending over $200, Williams and Schumacher have made over 150 head bands on average for the student section every Thursday night.
Prior to Williams and Schumacher picking up this opportunity, LHS Boosters had made headbands for select games such as homecoming and Touchdowns Against Cancer games. Student council has also made headbands for a few games as well, but the responsibility never fell on one person or group.
"We decided to start making the headbands this season because we saw a few floating around last year during the football season," Junior Tyler Schumacher said. "We thought it would be cool if we were to expand on that and do them for the majority of the games and for everyone in the student section."
For both Schumacher and Williams, making headbands for the Friday Night Lights has been about more than just school spirit, but rather, school unity.
"To me, doing this is important because it just shows how the student section is actually unified," Senior Zeke Williams said. "It also helps because some people don't own or have access to clothes that fit the themes sometimes and this can give them a sense of that school pride and belonging."
So how did this all start? At first, they thought they'd begin by pooling together money for the first game and seeing if the student section would catch on.
"Well the first game we did it at was against Creighton Prep up in Omaha," Williams said. "There weren't too many people but those who were there really appreciated it. Then at later games, people were asking 'Where are the headband guys?' and that was kind of awesome."
Later, the two branched out to students to see what people wanted the headbands to look like. They always related to the theme for that week, but what was most important for them was that people liked what they were doing.
"It means a lot to see people are enjoying the fact they have headbands following the theme," Schumacher said. "It makes me super happy to see the unity in the student section this year with the headbands worn by most people, even the band wants to wear them."
"At the Southwest game, I saw Larson wearing one on his arm," Williams said. "That just really showed me that what we were doing was important."
Williams and Schumacher see it as less of a responsibility and more of an opportunity.
"The goal for us to just have fun with it," Williams said. "It was something fun that we could do to show school spirit."
But Williams and Schumacher aren't done quite yet.
"We're planning on trying to do the basketball games this winter as well." Williams said. "The problem is, not many students go to the games, so if we could have a larger student section to support both the boys and girls basketball teams, that would be awesome and we could totally do it."
"The thing is, we really just want to raise school spirit," Williams said.
About the Writer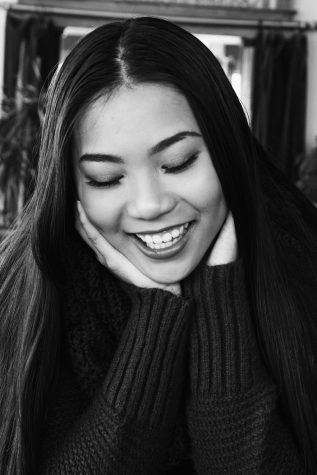 Angel Tran, Editor-In-Chief
"So live. Live. Fight like hell. And when you get too tired to fight, lay down and rest and let somebody else fight for you." -Stuart Scott



Hey...