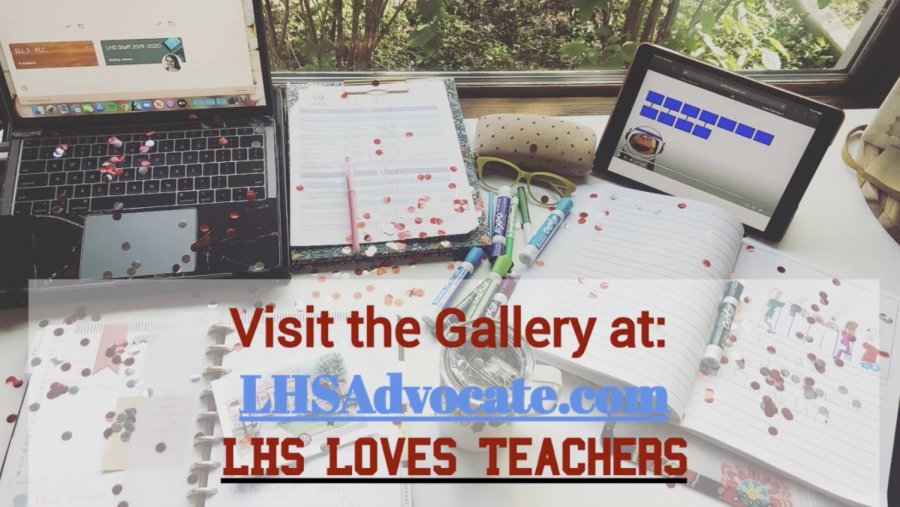 Season 1: Episode 137
Friday, May 8, 2020
Good morning Lincoln High. Welcome to LinksLIVE! The Lincoln High morning news show.
How's everybody doing? Hope you're all well. Thanks for joining us.
I'm Cate Frederick keeping you updated on the latest news about school and the coronavirus situation.
A reminder that links to updates with all official LPS information are also available on the lps home page at lps.org
On today's show we have some information about Teacher Appreciation Day, a Senior T-shirt design contest, Important information for Graduating Seniors!, Graduation Speech Tryouts, a live zoom workout with LHS coaches, CLC opportunities, Food Distribution, and MORE! So stay tuned.
IT'S MUSIC FRIDAY! Here's another playlist for today. Give these a listen, and enjoy. GUESS THE THEME AND WIN A PRIZE. SUBMIT YOUR GUESS THROUGH THE JUMP CODE: OMY7. And remember to send us your suggestions for next week by emailing us at linkslive@lps.org
Congratulations to Camila Gomez who correctly guessed last week's theme which was Show Tunes from Musicals! Camila will receive two free movie passes to Marcus Edgewood Cinemas.
A reminder about the end of the semester:
The last day for new material will be Friday, May 15th. Students will still be able to turn in school work and communicate with their teachers through the last week of school, but nothing new will be assigned after May 15th. The last official day of school is Thursday, May 21st. Be sure to communicate with your teachers about missing or incomplete work before then. Let's finish strong.
Summer High School Course Registration
Just a reminder that ALL students can register for Summer School beginning this coming Monday, May 11th. Remember that high school summer school classes are FREE to any student (public or private) in grades 9-12 that currently resides within the LPS boundary.
More information can be found on the summer school website: home.lps.org/summerschool
If you have any questions about this process, please contact your school counselor.
Teacher Appreciation Day was on May 5th! Did you thank your teachers? The LHS admin team recognized teachers by mailing LHS staff packets of red and black confetti and asking them to film themselves throwing the confetti to celebrate. Teachers shared the photos and videos on social media with the hashtag: #LHSlovesTeachers.
You can see all of the submissions on The Advocate Online in the gallery titled: LHS Loves Teachers. Here are some of the submissions.
Attention Creative Links!
The Yearbook staff is working on this year's Senior T-shirt design, and they want your help. If you have an idea for a slogan or a design for the LHS Class of 2020 T-shirt, submit your ideas by Monday, May 11th through the jump code: PLY3
Or email them your ideas to lhsyearbook@lps.org. More details about sales will be coming next week once we have a design. If they choose your design, you'll get a FREE T-SHIRT. Again, the jump code is PLY3. Submit your ideas NOW!
"Important information for Graduating Seniors!
Through these unprecedented times, we still want to honor our graduating Seniors.
Please complete the following information by the deadlines shown:
Student Information/Graduation Survey
ALL Graduating Seniors must complete the following Google Form at: Jump Code: YPOE
This information will be used for a special presentation, final transcript requests, as well as our school profile.
This is DUE: Monday, May 11th at 3:00 p.m.
Graduating Seniors with SCHOLARSHIPS:
Complete the Google Form at: Jump Code: YLYW (You will need to upload documentation) **If you are unable to upload documentation, you may email the information to Amy Sparks of the Counseling Center at asparks@lps.org**
THIS IS DUE: Monday, May 11th at 3:00pm
Be sure to include ALL scholarships you are being offered, whether you are accepting them or not.
Please check your Grade 12 google classrooms often, as well as your email.
There are several of you that we are missing photos for. You would have received an email from Amy Sparks requesting that you send her a photo. Please be sure to do that ASAP.
"Graduation Speech Tryouts are Wednesday, May 20th. Students should sign up on the Google Form at Jump Code: YGOB to show interest by Monday, May 18th at 3:15. Zoom meeting info will be sent to those who signed up on Tuesday the 19th. Speeches should be about 3 minutes in length and if chosen will be recorded for a ceremony in July. Four speakers will be chosen. More information is available in the Grad Speech Info document. Further questions should be emailed to Mrs. Aten at: lgapp@lps.org
More info document:
https://docs.google.com/document/d/1ShdlZPs4pGYWLoVEniBhKrKmZz4CQVUJ2lM9_WW-HHs/edit
Form to sign up
https://docs.google.com/forms/d/1lcpl3WBJ3PhndkthYrW6sZ0O4xA1axmeDrujLNw2gk0/edit
"Attention all Lincoln High students and student athletes! The Lincoln High sport coaches will be hosting a LIVE Zoom workout on Monday, May 11th at 3:00 PM. This session is available to all Lincoln High students who are interested in getting their sweat on while working out with their classmates and coaches. Teachers, you are welcome to join also! If you are interested you can find the zoom jump code on Coach Beckmann's weight training google classrooms, contact your specific sport coach, or reach out to Coach Beckmann individually by email at dbeckma@lps.org. We are hoping for good enough attendance where we can host workouts Mondays, Weds, and Thursdays at 3:00. We are all Links, linked together, to make One Chain and we will forever be UnBroken!" See you on Monday at 3:00.
Looking for a new way to get connected with other Lincoln High students and have an impact on your school community? Consider joining Student Council for the 2021 school year. Applications are now available via the jump code YKGQ. The deadline to apply is TODAY! For more information, you can contact cosponsors Shelley Swartz or Carter Hulinsky. See their contact information in the transcript below.
sswartz2@lps.org chulins@lps.org.
Here's a message from Chelsea Egenberger and the CLC
"C: Hello LINKS, Chelsea here from the LHS CLC!
E: And Erin here again with the Northeast high school CLC.
C: This week, Civic Nebraska invites you to our new Virtual Learning Hub: Civic U! You can find this online at: https://www.civicnebraska.org/virtualhub/
E: Civic U is a collaboration of online programming from across Civic Nebraska including sections designed for Young Americans, Defenders of Democracy, & Community Advocates. Our section for Young Americans is full of opportunities to develop leadership, social-emotional learning and civic engagement skills!
C: Check out our corner of the site specifically for High Schoolers!
There you can join the Young People's History of the United States Book Club with a lesson on the labor movement!
E: Join us this Thursday for a LIVE Connection Circle hosted by Chelsea and yours truly – this will be a chance to check in with one another and cultivate some much-needed social connectedness.
C: And Friday is all about that DANCE PARTY – so please register at the CIVIC U site and include your song requests!
E: Also, check out the NEW Civic U Flipgrid page, where YOU can post videos on what you're learning using flipcode: civicnebraska1247
C: Don't forget we still have our CLC office hours everyday 2-3pm and other groups meeting throughout the week – stay up to date at our google classroom: 666wuph!
E: We hope to see you online this week at https://www.civicnebraska.org/virtualhub/
Here's a message about hand washing from the school nurse.

For information about Grab-N-Go Meals, click on the Food Distribution link at lps.org, or type the word "food" in the keyword search. [https://home.lps.org/covid-19/food-distribution/]
Weekly food distribution is Mondays from 11 a.m. to 12:30 p.m. for any child ages 1-18 at the following locations:
Belmont, Arnold, Calvert, Hartley, Huntington, Clinton, Saratoga, and West Lincoln
Elementary Schools:
Culler, Park, Goodrich, and Lefler Middle Schools,
and at Northeast High School and Lincoln High where you'll enter the circle on 21st and J Streets and follow staff directions.
Any family is also welcome to pick up pre-packaged bags of food from the Lincoln Food Bank during their food distribution. More information about their schedule can be found at their website: LincolnFoodBank.org
Remember that you can leave a comment below this video at any time for us. We want your feedback. You can also tell us your story of how you're coping with all of this by filling out the form at Jump Code PBYZ. That's PBYZ
Do you have good news to share? Questions? Comments? You can also reach out to us at linkslive@lps.org, or message us on The Advocate Twitter and Instagram accounts: @lhsadvocate or on the Yearbook Instagram: @linksyearbook. We want to hear from you.
In the meantime, please follow CDC guidelines and STAY HOME as much as possible and Stay Away From Others in Public, Wash Your Hands, Don't Touch Your Face, and Cover Your Cough.
Take care, keep supporting each other, and stay connected with us.
That's all for today. Remember that you can see all past episodes of our show on The Advocate Online website at LHSAdvocate.com and a list of all jump codes through the master jump code YZYR.
Thanks for watching our broadcast, and we'll see you again next time on… LinksLIVE!