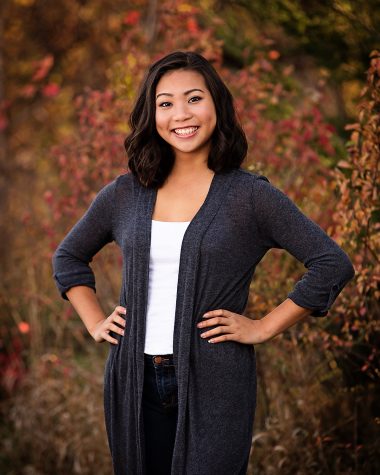 "So live. Live. Fight like hell. And when you get too tired to fight, lay down and rest and let somebody else fight for you." -Stuart Scott
---
Hey there! (:
My name is Angelina Tran, but most call me Angel.  I am The Advocate's Editor-in-Chief.
Future Goals and Aspects
A major goal for my life is to finish school with bachelors, masters, and doctorate degrees.  I am a part of the Upward Bound program, a college preparatory program based at the University of Nebraska-Lincoln.  I plan on majoring in Business Management and dual-minoring in Marketing and Retail Merchandising at DePaul University in Chicago.
Personal Life
I am a varsity sprinter for the LHS Track and Field team, as well as a varsity letterman.  I am a two-time state qualifier in the 100M, 200M, and 4x100M Relay.  I am also a sponsored indoor track sprinter as well as a competitive powerlifter.  My main goal is to return to the Nebraska State Track and Field Championship next May 2018.
Another activity I am involved in is DECA, which stands for Distributive Education Clubs of America.  As a part of DECA, I help with community service projects and events, fundraising, and I compete at the district, state, and national level.  Currently, I am Co-Presidents with my other half, Jayla Toliver.
As the student representative for LHS, I am a co-chair on the district High-School Task Force, a committee that is planning the next two high schools being built in the city of Lincoln.  I am the committee co-chair of Student Diversity and Community.
Angel Tran, Editor-In-Chief
Apr 10, 2018

Boys Varsity and JV soccer bring the heat against Northeast on a chilly Monday night

(Story)

Mar 23, 2018

TIME'S UP: Women in entertainment industry spark national movements to end sexual harassment, violence

(Story)

Mar 23, 2018

To the adults in the world we live in today…

(Story)

Mar 23, 2018

STATE CHAMPION: ISAIAH ALFORD

(Story)

Feb 05, 2018

Your MUST-SEE Movies for February!

(Story)

Dec 08, 2017

Looking for a good lunch deal? Maximize your 29 minutes NOW

(Story)

Nov 21, 2017

Your MUST SEE movies for December!

(Story)

Oct 20, 2017

Poma-Who? Poma-What? PomaLINKS!

(Media)

Nov 05, 2017

DECA hosts a teacher versus teacher baking competition

(Story)

Oct 18, 2017

LHS Cheer works to change team's vibe

(Story)

Aug 30, 2017

Varsity football team blows away Omaha Northwest during season opener

(Story)

May 24, 2017

New Reputation: Girls Soccer improves season record

(Story)

May 24, 2017

Girls Tennis Dominates season

(Story)

May 24, 2017

LHS Life In Photos

(Story)

Apr 25, 2017

Freshman, JV Track Meet Takes Over Beechner Athletic Complex

(Story)

Apr 23, 2017

Varsity Boys Soccer Takes the Dub…Twice

(Story)

Apr 02, 2017

POWERLIFTING: The Newest (and Strongest) Team of Links

(Story)

Apr 02, 2017

Boys Basketball finishes with two more wins than previous year

(Story)

Apr 02, 2017

Wrestling Creates a New Impression

(Story)

Dec 02, 2016

Follow the Leader: Leading our team to victory!

(Story)

Dec 01, 2016

WHERE I$ THE MONEY?

(Story)

Nov 04, 2016

DECA Brings In the Cash

(Story)