Debate starts off season with two wins
Hang on for a minute...we're trying to find some more stories you might like.
By Audrey Perry –
"For good ideas and true innovation, you need human interaction, conflict, argument, and debate."
The Lincoln High Debate Team is following the words of Margaret Heffernan, arguing and articulating the points that lead to those great ideas and innovation. With over five weeks of practice, the Lincoln High debate team has traveled to Norfolk and Southwest High School to compete in their first competitions.  
With an array of styles including Public Forum, Lincoln-Douglas, Policy, and Congress, Lincoln High achieved the overall second place debate title at Southwest and first place at Norfolk along with varying and more personal awards to set the year of many competitions off on the right foot.
The first competitions have set a great example of what to look forward to in the upcoming season.
"We've proven we are a major contender for state tournaments, and we've also sent teams to Nationals, and to Tournament of Champions (a prestigious national competition)," freshman Janna Marley said.
One of the most prominent efforts the team puts into the season is time.
"It takes so much time," Marley said. "We really want to win whatever we can."
The varying types of styles and choices create complex decisions and preparation for each competition. The first style of debate is public forum which is based on evidence and facts in ways people can understand about current issues and policies.
The second is Lincoln-Douglas style which is "more moral based" Marley said. "It is sometimes called 'values debate" because it focuses so heavily on morals,' she added.
The third, Policy, is similar to Lincoln-Douglas where it focuses on morals but is different in that it focuses less on values.
The last style is Congress style where the arguments cover a wide variety of topics and arguments.
Even though the work is hard, complex, and time-consuming, it still pays off and is a great environment for the team. "
We also want to just enjoy debating, and meet people," Marley said.
Now that the team has started competing they are now preparing for their third competition in Elkhorn from 8 a.m. to 10 p.m.
"The hardest part of debate is staying calm during competitions, and accepting loss," Marley said. "Debate, because it is amazing and wonderful and fabulous."
And as the season begins, the debate team is putting their fears behind them and heading off to their next competition in Elkhorn South High School on Saturday.
About the Writer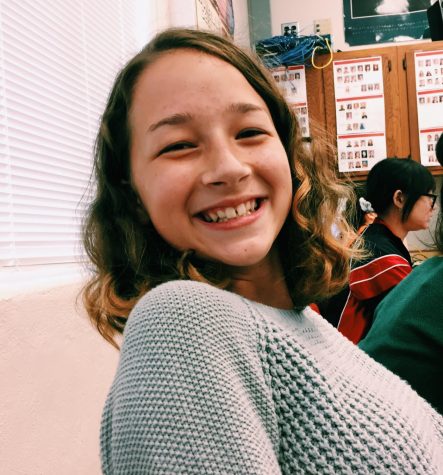 Audrey Perry, Operations Editor
Hello! My name is Audrey Perry and I am a pre-IB sophomore at Lincoln High. It is my second year with The Advocate and I am currently one of the editors...