Break-in attempt failed: Cameras help identify would-be intruder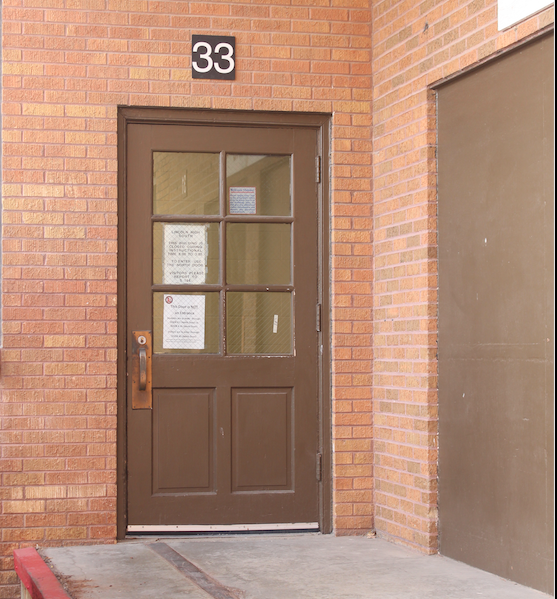 By Grace Miller – News –
On the night of Wednesday, November 8th, 2017 at 2 a.m, an individual attempted to break into Lincoln High School near the south doors close to room S136. Thankfully, this individual was caught on a security camera outside of the south doors, and administrators worked with police to figure out who this person was.
The Lincoln Police Department was able to identify the person, who was not involved with LPS or LHS in anyway, with the help of the video cameras that were by the door.
The individual attempted to break through the glass on door 33 of South Building, but he wasn't successful. He broke some glass but could not break the other panels, so he did not get into the building.
The police caught the individual, because his face was captured on security cameras. He was later arrested.
In Principal Mark Larson's 12 years at LHS this is the first time that a break-in to the school has happened. The individual was not related to LHS or LPS in anyway so Larson is not worried about anything else happening to the school.
There have been two other incidents that have occurred this year, but they involved cars. On the day of the Links Marching Contest, October 7th 2017, two cars got broken into. The cars belonged to students and were both in the south teacher lot during the day. The offenders were picking the car's door locks. None of these individuals were caught and none of the damage has been recorded. No police reports were filed, but the people picking the locks were caught on camera. Nothing was stolen, and no one was arrested.
Larson has some advice for students who are afraid that something might happen to their vehicles.
"There are three things you can do prevent break-ins. Lock your car, park in designated areas, and when you see something, say something," Larson suggested. The security officers do not always monitor the cameras, so they cannot always know what is happening everywhere else in the school.