Holiday Cookie Recipes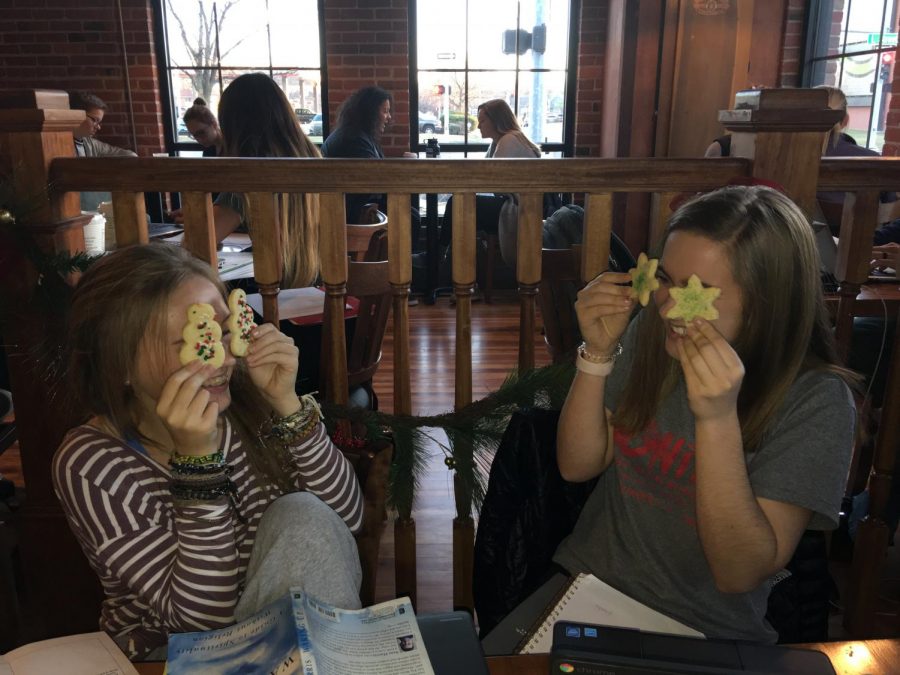 By Grace Miller – Entertainment
During winter break, it is freezing outside, most people don't want to go outside, all they want to do it sit in front of a fire and drink a hot drink. I am here to help solve one of those problems. Now, I don't exactly have a fire for you to sit in front of but most ovens usually warm up homes. Making cookies is a great thing for you to do by yourself or others! I have three amazing recipes for you to try out over the long break. All of the recipes are courtesy of Heather Miller. 
→ Ginger Molasses
→ Ingredients:
1 and ½ cups butter, softened

2 cups sugar, and more for rolling out the cookies

½ cup molasses

2 eggs

4 cups all-purpose flour

4 tsp baking soda

2 tsp ground cinnamon

1 tsp ground cloves

1 tsp ground ginger

1 tsp salt
→ Instructions:
Preheat oven to 375 degrees. Line baking sheets with parchment paper or silicone baking mats and set aside

In a large bowl whisk together flour, baking soda, cinnamon, cloves, ginger, and salt. Set this bowl aside

In the bowl of an electric standing mixer, cream together butter and sugar until completely combined.

Add in the molasses and eggs then mix until incorporated

Fill  small bowl with ¾ cup granulated sugar

Using a medium sized scoop, scoop some of the dough out and roll it into a ball. Then roll it in the sugar and place on baking sheet. Repeat until dough is gone

Bake for 10 minutes
→ They will still look undercooked but remember that they will still cook while they are cooling on the baking sheet  
Let cool for 5 to 10 minutes then transfer to a metal wire rack

Enjoy!!!
→ Lemon Snowdrop Cookies
→ Ingredients:
⅔ cup sugar

1 tablespoon finely grated lemon zest

1 stick of room temp, unsalted butter

3 tablespoons lemon juice

2 tablespoons honey

1 teaspoon vanilla extract

1 teaspoon lemon extract

2 cups all purpose flour

1 teaspoon baking soda

¼ teaspoon salt

½ cup powdered sugar
→ Instructions:
Put the lemon zest and sugar into the bowl of an electric standing mixer. Use your hands to rub the zest and sugar together to infuse the lemon flavor. Do this for about a minute

Add the butter. Use the paddle attachment to cream the butter and sugar together. Stop and scrap the sides of the bowl as necessary

Add lemon juice, honey, vanilla extract, and lemon extract and beat until combined. The mixture might look like it might be curdled because of the lemon juice.

Add flour, baking soda, and sea salt. Beat until the dough begins to form a ball.

Chill dough for at least 30 minutes.

Preheat oven to 350 degrees

Form the dough into balls and place them on an ungreased baking sheet

Bake for about 8-10 minutes

Allow the cookies to cool completely then transfer to a metal wire rack

Sprinkle the cookies in powdered sugar and serve.
→ Sugar cookies
→ Ingredients:
1 and ½ cups butter, softened to room temperature

1 and ½ cups granulated sugar

½ cup powdered sugar

4 large eggs

1 teaspoon vanilla

½ teaspoon almond extract

5 cups all-purpose flour

2 teaspoons baking powder

1 teaspoon salt
→ Instructions:
Preheat oven to 400 degrees

In a large bowl of an electric standing mixer, cream together the butter, granulated sugar and powdered sugar for about 3-4 minutes or until the mixture is light and fluffy

Add the eggs one at a time. Make sure the mixture is well combined before each addition

Add vanilla and almond extracts

Add two cups of flour, baking powder, and salt. Mix. Add the remaining flour and mix just until flour is incorporated and the dough has no lumps

Cover and refrigerate the dough for at least 30 minutes

Dust a counter with flour and roll the dough to desired thickness

Cut the dough into shapes using cookie cutters

Place cookies on a lined or lightly greased baking sheet. Bake for 7-8 minutes

Remember that the cookies will not brown in the oven. They will finish baking on the baking sheet while cooling. Do not let them over bake!

Cool completely before transferring the cookies to a wire rack