Get Ready to LOVE these Valentine's Day Treats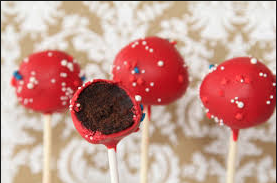 Hang on for a minute...we're trying to find some more stories you might like.
As Valentine's Day rolls around many feelings come with it. Whether they are feelings of love or sadness food goes with everything. If you're sitting on the couch watching Netflix and want something to eat, just make these delicious recipes. All recipes are by Grace Miller. 
Heart Shaped Oreo Truffles:
Ingredients:

24 Oreos, crushed into crumbs

5 oz. softened cream cheese

12-14 oz. of white chocolate (candy coating or almond bark)

Optional- heart shaped sprinkles

Directions:

Line a baking tray with waxed paper

Crush up the Oreos (with the filling in) to very fine crumbs

Combine the crumbs with the cream cheese

When the mixture is evenly combines, transfer it to the baking sheet and spread it in an even layer (about ½ an inch thick)

Put the tray in the freezer for about 45 minutes or until it is hard enough for cutting

Cut out the truffles with a heart shaped cookie cutter and put them back in the freezer for 20-30 minutes before dipping them in the chocolate

Line another tray with waxed paper and set aside

Melt the 12-14 oz of chocolate

Take a few hearts from the freezer (don't take them all out at the same time because you don't want them to soften while you are dipping the other ones)

Dip one heart at a time with a fork and let the excess drip off

Top with sprinkles

Let the chocolate set up and enjoy 🙂
Strawberry Puppy Chow:
Ingredients:

9 cups of rice chex

2 cups white chocolate chips

1 small box of strawberry jello

1 ½ cups powdered sugar

Directions:

Melt chocolate chips and pour over chex in a small bowl

Mix well

Mix dry jello and powdered sugar

Add to chex, shake to ensure a good coating

Enjoy 🙂
Red Velvet Cake Balls:
Ingredients:

1 red velvet cake mix

The ingredients on the cake mix (normally something like 1 cup water, ½ cup oil and three eggs)

1 15 oz container of cream cheese frosting (or you can make your own)

1 pound of almond bark

Optional: red candy melts for stripes on top

Directions:

Bake the cake according to the directions on the package

Let it cool completely (freezer works best for this or you can cool it overnight)

Put the whole cake into a bowl and crumble it up

Stir in the frosting (about ½ cup at a time) until it will hold its shape

Form the mixture into balls and place them onto a baking sheet covered with waxed paper

Put them into the fridge for about 3 minutes to firm up

Melt the almond bark

Dip each ball into the melted chocolate and place back on the pan with waxed paper

Decorate with sprinkles if you want before the chocolate hardens

Put in the fridge and let the chocolate set up

Melt red candy melts

Spoon melted chocolate into a Ziploc bag and cut a hole in one of the corners

Drizzle the chocolate onto the cake bites

Enjoy 🙂