Bike Kitchen: Local non-profit makes a difference in biking community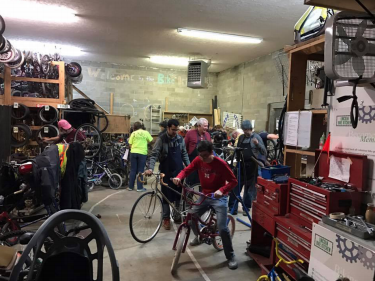 By Audrey Perry
During the recent decade, Lincoln, Nebraska has become a part of a vibrant biking community. With ten trails and over 130 miles of biking stretch, it has become easy for citizens to choose other forms of transportation to help the environment. Even with the amazing opportunities for Lincolnites to bike around town, for a lot of people it is not accessible.
That's where the Lincoln Bike Kitchen comes in. They are a non-profit company that repairs and restores and donates bikes, along with other community involved programs. Since biking is a cost-effective, healthy, environment positive activity, their goal is to make biking accessible for anyone who wants to be a "biker". They are known for empowering people by," actively promoting and advocating for cycling."
The Lincoln Bike Kitchen first was established in 2006 by Pepe Fierro. After relocating to Lincoln, NE with a restaurant chain, the apartment that he was supposed to live in was literally non-existent. He was forced to sleep in his car until he found the means for a home. To save money he invested in a bicycle to transport him around.
Fierro noticed that a large group of students and citizens in the community were always walking everywhere without easy transportation. He saw an opportunity to make a change and he took it. He started picking up bikes at yard sales and fixing them up. He would then take them to local coffee shops and displayed them outside with a free sign, for anyone who needed it.
As his hobby grew into something more than an civic engagement activity from time to time, the Bike Kitchen was created in a little camper in the Lincoln-Everette neighborhood. Slowly a group of friends and people passionate for the cause created a group that evolved as the small team of members Fierro created changed locations and had new resources. When they moved to their location in a house on 15th street, they officially established the company, with a core group of mechanics, as the Lincoln Bike Kitchen.
In their tiny camper they had room for only four bike racks and weren't able to fully function to their full potential. At another point, the kitchen became homeless, working from mobile shops around Lincoln. Eventually Fiero moved on from the company, but he still keeps in touch with the core members.
Now located near downtown Lincoln, the Bike Kitchen has slowly but surely seen their effect on the community take place. In their first few years they only gave around 200 bikes away. When they were able to move to their new location their newfound abilities helped their effect on the community soar. This past year in 2017, they were able to give away over 600 bikes in total.
For a large group of people in Lincoln, their only means of transportation are biking, the bus, and walking. When their bikes are broken down or they become without one, the Bike Kitchen is a resource to those who need help. Children can apply for bikes with their parents as well. Last year they donated 476 children's bikes, helped repair over 450 bikes, and gave away 108 bikes for community members.
They have also greatly helped the refugee community in Lincoln, providing easy transportation. Leonard Campbell, president of the Bike Kitchen board reflects on the change he has seen most.
"We have changed many people's lives, including my own, through having a place to give to the community and encouraging healthy activities,"Campbell said. "We have had tremendous growth."
None of that would be possible without the help of the community and local volunteers, both full time and temporary. Since they are a non-profit organization, the Bike Kitchen fully relies on the community and their bikes, tools, time, and money.
Because of the time and resources it takes to repair and refurbish a bike in order to donate, the space that the Lincoln Bike Kitchen is currently using is inadequate. In order to reach their goals and expand in the community, they need a new and larger space to continue what they are doing.
You can help them by alerting them of any place in Lincoln that they could expand to and continue to serve the community. You can also help by donating bikes. If you have old bikes or parts just sitting somewhere, they can be used elsewhere rather than just sitting without use. Take those extra materials to the Bike Kitchen where someone in the community can put it to good use. While donating your extra parts is helpful to the community, donating your extra time will give the most impact.
They also solely depend on volunteers in the community. While plenty of people come to work hours in order to earn a bike, there are few members who are long term volunteers and even then it is still a struggle to get help. You can go and volunteer with them anytime. They are open for workshops on Sunday from 12 – 4 and located at 1635 S 1st Street in Lincoln where you can always help.
View Comments (2)
About the Contributor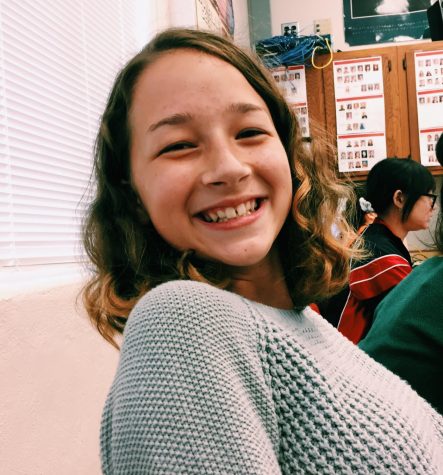 Audrey Perry, Editor-In-Chief
Hello! My name is Audrey Perry and I am an IB Junior at Lincoln High. It is my third year with The Advocate and I am currently the Editor-In-Chief on staff....