Grab and Go Breakfasts bring better health, attendance
Hang on for a minute...we're trying to find some more stories you might like.
By Maicee Ingwerson
    If your experience has been anything like mine, then from your earliest school days, you have been told; breakfast, breakfast, breakfast.
All teachers seem to find a way to mention the importance of breakfast for your health, as well as attention in class, but what has ever been done about it? Just saying to eat breakfast doesn't exactly cook it for you, and no matter how many times its repeated those words alone can't ease the pain of waking up even earlier to insure time for breakfast.
Recently Lincoln High has decided to do something to help students with this. Now, located near the North and South entrances, are Grab and Go Breakfasts, and all you need in order to get one is your lunch number or student ID.
For the past six years, Lincoln High has been able to take advantage of the Fruit and Fiber Fund. This is what provided the snacks available to everyone at various locations around the school in the morning. But with this gone, the Grab and Go Breakfasts have been implemented as a sort of replacement for this.
The purpose of the Grab and Go Breakfasts is in large to provide energy so that students can be more attentive and ready to learn for the school day.
"We are wanting students to report to school ready to learn, and find that if they have some energy to do that they can last a little bit longer through the day," Lincoln High School nurseDawn Sugden said.
One large aspect that sets these Grab and Go Breakfasts apart from the normal breakfast that's provided at school, is the timing.
"A lot of students don't get here early enough in the morning to report to the cafeteria for breakfast at 7:15, so using the Grab and Go breakfast until the bell at 7:55 has been beneficial for a lot of students," Sugden said.
Another benefit to add to the list, is better attendance.
"We don't want them leaving school to run across to the gas station to get something to eat mid-morning so attendance is a big push to have Grab and Go breakfasts here and available for students," Sugden said.
The hopes are that something as affordable and accessible as this will decrease the number of students that are leaving the school for food, because these breakfasts are only $1.50.
And, to make these even more appealing, the entrees are made to be things that kids will hopefully enjoy. Some examples of these entrees are donuts, toaster pastries, and pop tarts. The full breakfast includes an entree, a juice, a milk, and a fruit serving.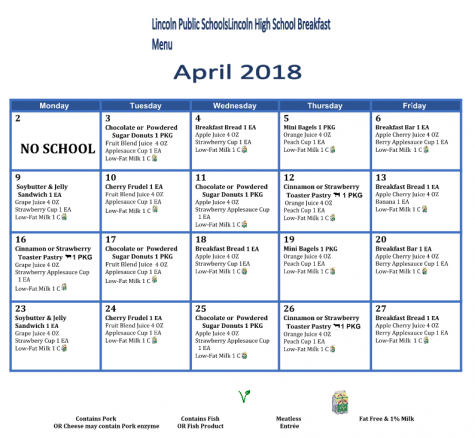 "Please, please, please participate," Sugden said. "Nutrition services would like Lincoln High to average around 400 grab and go breakfast servings a day to continue the program."
It's important that this has success here at Lincoln High, so that it can be spread to other high schools in the district.