Heather Boulais: The road to recovery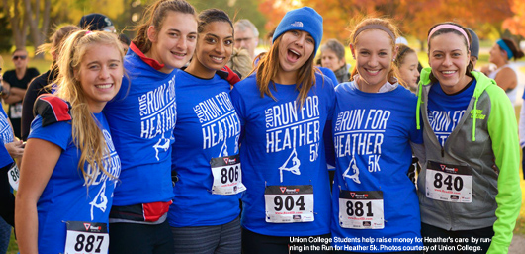 Audrey Perry – FEATURE
On January 14, 2015, Heather Boulais, a gymnast from the Union College Gymnaires, was setting up her silks to prepare for the upcoming home show that would showcase her aerobatic skills. She was attached to the safety harness that carried her to the top of the Union College Thunderdome to clip the silks to the ceiling. As she made it to the top, the clip which attached her harness to the rope malfunctioned and broke. Boulais fell 23 feet, and sustained injuries to her head.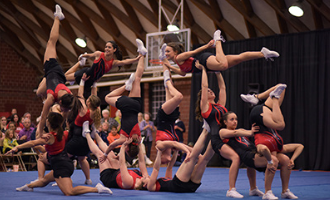 Her teammates and coaches immediately jumped into action and she was rushed to emergency care. After an evaluation, it was clear that she had suffered a severe injury to her temporal and frontal lobe which also left a fractured skull, broken rib, and punctured lung. Boulais was put into a medical coma in order for the doctors to properly care for her. Because of the impact the fall took on her head, her brain started to swell. They raised her onto a horizontal bed and lowered her body temperature to 32 degrees so that the impending swelling and pressure would reduce. "She had a lot of swelling in the brain, and it took quite a while for us to be able to maintain things in the zones that we wanted them, that we thought were the best for her recovery," Bryan Trauma Center Dr. Reg Burton said in an interview.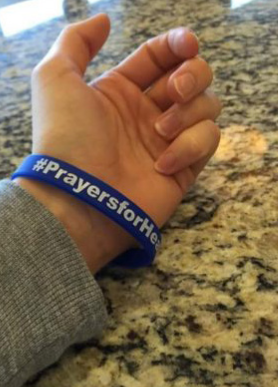 As soon as the incident occured, Heather's parents and eldest sister Cheryl, Terry, and Rachel Boulais, were notified from California and prepared for the trek to Nebraska. Their youngest daughter, Summer Boulais, was left in California to finish her sophomore year in high school. The community at Union College and fellow teammates rallied behind her and the family as they waited for positive news. Many people reached out making t-shirts, sending prayers and hopeful, comforting messages, along with hundreds of people brandishing #prayforheather bands.
Boulais was an active member of the Union College Community. As a full-time student, she studied Education and Spanish while also beginning her student teaching. She took part in the college's acro gymnastic team, The Gymnaires. The team performed in a wide array of talents including intricate stunts incorporating flips, human pyramids, tumbling, tosses, and extra solo stunts which included chair stacking, juggling, and teeter totter tricks.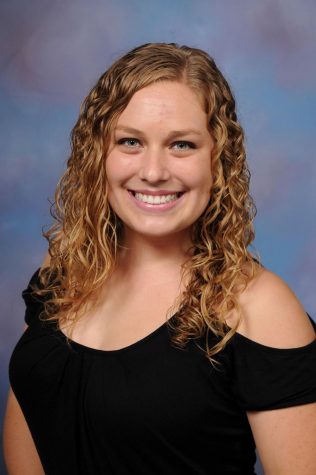 Heather specialized in a skill called the aerial silks. Boulais performed aerobatic tricks like climbs, wraps, and drops in the air from two pieces of silk hung from the Thunderdome ceiling. She was extremely talented in the area, and after starting with the team Boulais called her mother, Cheryl Boulais, and told her, "I've found my passion." She practiced incessantly to perfect her craft: Sunday through Friday. Slowly, Boulais started her recovery with the supporting community behind her. This year, in 2018, Heather is now able to walk with little assistance, forming many words, and partaking in activities that are nowhere near what was expected of her post-accident abilities. Throughout her journey, many people contributed to helping her get where she is today. Her parents and sisters, Cheryl, Terry, Rachel, and Summer, and the staff at the Bryan Hospitals, Madonna Rehabilitation Center, therapists, and many medical professionals that saved her life. She has gained an enormous amount of mobility for someone of her condition. She is receptive to others and even smiles, waves and chats with you.
Now she is working on fine motor skills and you can see her progress on their Facebook page,"#prayersforheather." Heather's mother Cheryl Boulais writes saying, "We ask that you pray for Heather during her break from therapy," Boulais said. "That she maintains her current progress while making new progress. that she remains seizure free and to naturally use her right hand and arm more. We want to include prayers of gratitude for the compassionate medical teams and caregivers working diligently with each of these survivors."
Leave a Comment
About the Contributor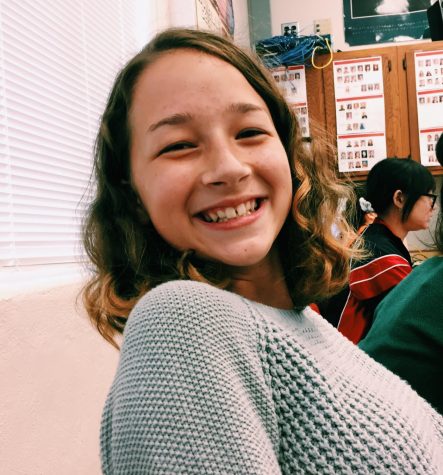 Audrey Perry, Editor-In-Chief
Hello! My name is Audrey Perry and I am an IB Junior at Lincoln High. It is my third year with The Advocate and I am currently the Editor-In-Chief on staff....