A Dash Of Rainbow: LHS Pride Club offers support for LGBTQ+ community
By Ellee Hohbein
Whether you a part of the Lesbian, Gay, Bisexual, Transgender, Queer, Plus (LGBTQ+) community, support the community, or are just interested in the club, the LHS Pride club may be the place for you. The club is open to any and all students.
The members of the Pride Club join together to talk about issues important to the LGBTQ+ community in and around Lincoln and Lincoln High.
"The Pride Club is full of lots of diverse people," freshman member Jacquelin Jimenez said. "And we have a lot of fun talking about the issues in the LGBTQ+ community in our school, around our school, and just the world in general."
At Festivus, they gave out buttons for one ticket, in which the buyer could find many different pride flags and lots of pro-pride sayings such as: "Love is love," "LHS Pride," and also pronoun pins such as: "she/her," "he/his," and "they/them." Lots of people bought these and showed them off, accepting their own sexual orientation and gender.
Since the LGBTQ+ community is so big at LHS, the Pride Club has members of a variety of sexualities and genders. The Pride Club is a place students could go to feel accepted and where they can find many people who are similar to them. The club is a non-judgemental zone where they can be who they truly want to be.
According to club sponsor Jen Deets, at Lincoln High we have the Pride club to try and stop help bullying, self harm, the intentions of suicide, and more. If people don't feel comfortable about expressing their sexuality at school is it really a safe place? Just like many other schools we have the Pride Club to try and help stop those bad intentions and help raise their school performance and attendance.
The club talks about subjects such as the new arriving books regarding the LGBTQ+ community to Lincoln High's library. These new arrivals include titles such as, The 57 Bus, Leah on the Off Beat, The Upside of Unrequited, Simon vs. The Homosapien Agenda and others that you can check out in the new "Pride" section at the library.
At some meetings, club members choose to tell their individual stories of 'coming out,' according to Deets. "And the celebrations and challenges of doing that as an adolescent in high school," Deets said.
Students who are interested and can't make it to the next meeting, could talk to Jen Deets (deetsj@lps.org) the sponsor of the club about joining. Students could feel free to join and talk to the members at the club about why they decided to join the club themselves.
Leave a Comment
About the Writer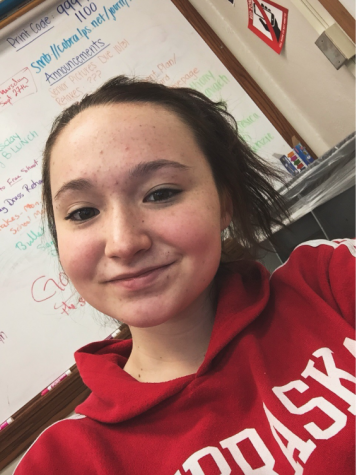 Ellee Hohbein, Reporter
Salutations! My name is Ellee Hohbein and I'm a freshman here at LHS. My favorite color is yellow, and goodness I cannot choose what my favorite food...