40 Degrees, 4 Hours, and 318 Pounds of Food– LHS FBLA Raises Money For Lincoln People's City Mission
By Cadence Smith | Feature |
The People's City Mission has come a long way by achieving their goals of helping homeless people find homes and help them with their future. But even the People's City Mission needs help sometimes.
That's why on October 6th, at the 27th and Cornhusker Super Saver, LHS Future Business Leaders of America (FBLA) had its own "Food Blitz"–a fundraiser to collect food to donate to the People's City Mission. This year the group collected 318 pounds of food.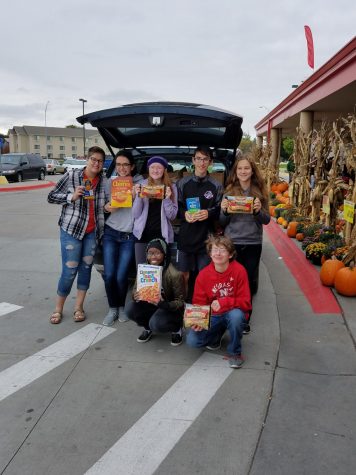 Food Blitz was hosted by the Lincoln High FBLA team this year. This is their 7th Food Blitz they have participated in, placing 3rd last year by collecting 554 pounds of food. But they aren't the only FBLA that wanted to make an difference. Many FBLA groups in Lincoln chose a Super Saver to do their fundraiser, which is why FBLA chose to host at the 27th and Cornhusker location.
It's more than just FBLA. Other organizations such as DECA and FCCLA also participate in this fun event.
"It's a really good way to give back to the community and allows people to donate easily," senior Chloe Andreini said.
The fundraiser was held from 10 a.m – 2 p.m. and all FBLA members joined in to help collect food for the People's City Mission. Lincoln High members included: Camryn Spencer, Chloe Andreini, Cadence Smith, Ethan Fleming, Aspen Kenley, Meissa Hassan, and Dalton Hurd-Frakes.
During the event, FBLA members handed out flyers which included a list of items people could buy to help donate to the People's City Mission, including food and comfort/care items.
After checking out, donations were given to the club for volunteers to put into boxes and bring to the Lincoln People's City Mission.
LHS FBLA sponsor Bonnie Anderson, said, "I think it is incredibly important for students to learn at an early age how they can serve their community with their time and talents."
Collecting a total of 318 pounds of food shows that there are people out there who have the drive to help the community–including students within our high school.
"It was great," sophomore Dalton Hurd-Frakes said. "I met a lot of new people and I had fun hanging with my fellow FBLA members."
With Lincoln High's FBLA team being a part of this community service, they show others that Lincoln High is there for everyone.
About the Writer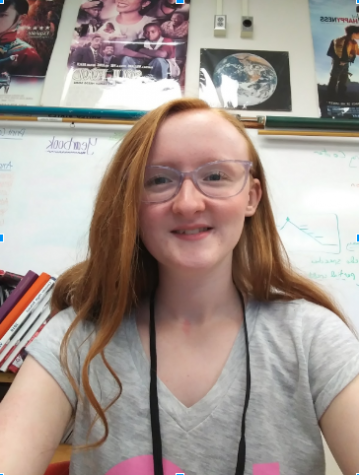 Cadence Smith, Reporter
Hey guys! My name is Cadence and i'm a Freshman. One thing about me is that I love the color purple. I like to write, which is obvious, and love to read....