Democratic Senate candidate Jane Raybould speaks to LHS students
By Emily Price
Nebraska Democratic Senate candidate Jane Raybould made a stop at Lincoln High on Tuesday to speak to students about her campaign and her vision for the future.
Raybould discussed a variety of topics that a high schooler may consider relevant, such as education, immigration, and gun control. She made her remarks in the Ted Sorensen Theatre during 3rd period to an audience of nearly 200 social studies students.
"We can't sit on the sidelines anymore," Raybould said. "None of us should be sitting on the sidelines anymore. That's the beauty of what Nebraskans are doing, and that's why I encourage you all to go out and use the wonderful tool of our democracy. Get out and vote."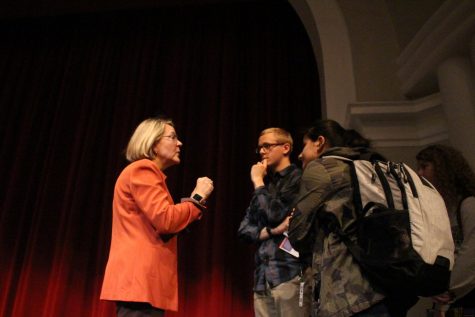 After Raybould's speech, students from the audience were asked how this affected what they thought of what Raybould had said. Raybould's remarks connected with freshman Angel Hernández, a student in Flora's Civics class. Hernández's question, "What are your thoughts on the caravan of mostly Central American people coming to North America?" was selected for Raybould to answer on stage.
"Her response was sincere," said Hernández. "[Her] words made me realize that our voices do count and that we need to vote for a person who cares about others, a person who cares about our economy, a person who does not discriminate because of others race, color, or even their origin."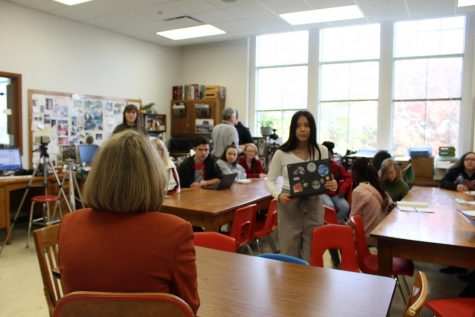 President of Young Democrats senior Sophie Olsen believes that having a female candidate come speak is great.
"It's super awesome to see a woman running," Olsen said. "And it's super important to have that representation. Especially to have it with a woman who very much cares about her constituents as an elected official."
Third period social studies teachers were invited to bring their classes to hear Raybould speak about her platforms, as well as answer student-submitted questions from Social Studies teacher Carol Flora's Civics class.
Flora had reached out to Raybould and Deb Fischer, both of the Nebraska Senate candidates, and organized it all. Raybould accepted the offer to speak to high school students, while Fischer declined.
Raybould then went up to The Advocate newsroom and partook in a 30-minute question and answer session with The Advocate staff. She answered questions regarding eco-friendliness, education funding, and the changing political atmosphere in Nebraska.
"All these people are speaking up saying, 'Hey, we're not happy with the direction of our country,'" Raybould said. "So, that gives me hope. That gives me optimism. And that gives me real strength to see people getting politically active like they have not done before," Raybould said. "I hope that we can make our state purple."
[Additional stories will be posted in the near future about Raybould's visit to Lincoln High. As they are posted, links will be added and updated below. The full video of her remarks will be accessible as well.]
Leave a Comment
About the Contributors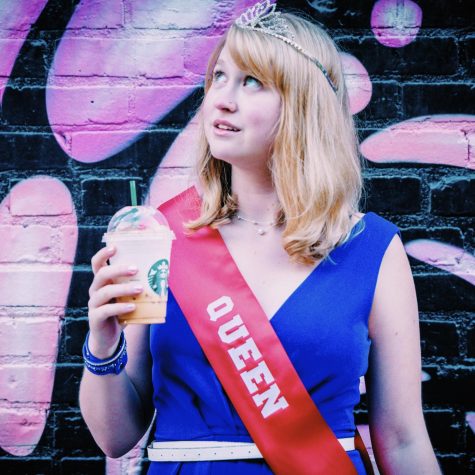 Emily Price, Reporter
Hey, y'all; Emily Price here! This year I am a senior here at the High. Other than being a staffer at the Advocate, I'm one of four of the lovely dance...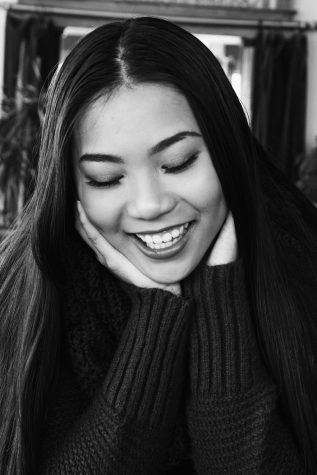 Angel Tran, Editor-In-Chief
"So live. Live. Fight like hell. And when you get too tired to fight, lay down and rest and let somebody else fight for you." -Stuart Scott



Hey...