Lincoln seniors use social media to combat stigma around periods
By Audrey Perry
Many students these days are using their voices and platforms to take action against the issues in today's society. The American Menstrual Journal is a prime example.
Lincoln High Seniors Madalyn Brandt and Sophia Olson, and East senior Maddie Haun, created a journal on Instagram and Facebook to compile stories about menstruation to combat the surrounding stigma.
The stories are posted on social media (@americanmenstrualjournal on Instagram or Facebook) where people can comment and share their own stories, in hopes of defeating the taboo around periods.
The idea was created after senior Sophia Olson returned from her trip to South Africa with other students. The trip was through The Experiment, a provider of summer abroad programs for high school students.
Their agenda for the trip was to "examine human rights, multiculturalism, and social change in the context of South Africa." Olson was one of 15 students chosen from around the country to go on the trip. One of the requirements that accompanied the trip was to create a project that commended change.
After a week of brainstorming Olson came to the conclusion that she wanted to do something that would have a long-lasting impact.
"I didn't want to come up with a one-day thing," Olson said. "I figured a social media campaign might be a longer thing and might be able to influence more people than just in this community." Also because it was a really powerful tool for reaching out and talking to other people, Olson said.
"I made a lot of friends this summer from all over the U.S., and I wanted to do something that everyone could be involved in."
Olson reached out to some bigger Instagram accounts, including @theperiod prince and @supportthegirls, with similar goals and some of the same values. Through their promotion their intake of stories increased and furthered their reasoning for social media. They have received around 100 submissions so far.
Lincoln East senior Maddie Haun and Lincoln High senior Madalyn Brandt became involved in the project toward the beginning of its creation. Olson reached out to the two young women and proposed the idea. After learning a bit more about the project they accepted.
"I feel like it's kind of a hard thing to do alone," Brandt said. "We are her team. It's been really fun so far."
Part of the project's goal is to become a global platform for stories about menstruation with a wide range of stories.
"We are talking about different things about gender and unequal access to pads and tampons," Brandt said. "I know part of it we are doing: what it's like to have your period as someone who is intersex and what it's like to be transgender."
After the stories are shared, the intent is that it will normalize periods and remove the taboo that surrounds them.
Though most of the stories are anonymous, they feel that the project has still aligned with the goal of sharing stories.
"If someone doesn't want to be linked to a story that's okay because it's awesome that they are sharing a part of their life with an audience," Brandt said.
Almost all of their stories and followers are female, but this was not intentional, and the team aims to increase a more diverse following as time goes on.
"I think it would be cool if we got more, not just females, following the account because women obviously want to support this, but if men also started following it would be getting closer to a group we haven't reached yet," Brandt said.
Once the project reaches its completion date in May for Olson, the team still wishes to continue it by passing it off to someone else after graduation.
You can contribute to the journal by following @americanmenstrual journal on Instagram or Facebook. Submissions can be made through DM, comments, or through a google form in their bio.
Leave a Comment
About the Contributor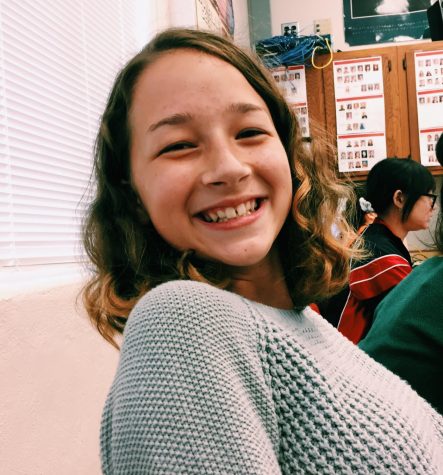 Audrey Perry, Editor-In-Chief
Hello! My name is Audrey Perry and I am an IB Junior at Lincoln High. It is my third year with The Advocate and I am currently the Editor-In-Chief on staff....