Alicia Rios
By Cadence Smith
At Lincoln High, many students are proud to show off their customs and cultures. One of those students is Alicia Rios, a junior at LHS.
Rios is Native American, a member of the Omaha tribe, and she tries as hard as she can to represent her culture in a positive way.
"I have very strong beliefs about the whole Native American thing in general," Rios said. Because Native Americans are often portrayed in negative ways in the media and in movies, she feels it's important to help try to change that image.
"I try to be the best student I can be at school so my siblings and cousins have someone to look up to," Rios said.
While Rios has seen what happens to family who have experienced some of those difficulties, she learns from those mistakes and knows that she doesn't want to be like that.
"I see how it hurts people, and I learn from that, and I know it's not what I want to do," Rios said.
In addition to trying her best in school, Rios participates in her culture in the community as well. She is currently Powwow Princess which comes with more responsibility.
"I represent Native Americans and my tribe and the Lincoln Indian Club, so I go to powwows throughout the year," Rios said.
Powwows are cultural events that feature group singing, drumming, and dancing by Native American men, women and children to pass down traditions from generation to generation. There are also competitions as well as food and music.
Alicia participates and competes in Traditional dance, although there are many other types as well. For example, Fancy, Shawl, and Jingle dances.
Rios tried out for the title for four years but had never received it.
"One year I was like, 'I ain't going to do it,' and I said, 'Grandma I don't think I want to do it, because I didn't get it that last year.' She said, 'Just do it, baby, do whatever you want,'" Rios said.
She did, and she succeeded. She is the first in her family to receive the honor. She is still Powwow Princess today, representing her tribe and her family.
With this responsibility, Rios believes she has to work even harder in school and outside activities. With the title of Powwow Princess, she represents Native Americans in general and even more herself.
"I have to represent myself, and represent myself highly and not give a bad impression," Rios said.
In addition, Rios also participates in school sports. She is currently part of the Varsity Girls Basketball Team, she also plans to play soccer or run track in the spring.
With all of these things going on, Rios demonstrates to everyone the necessary skills of being a leader and teaching students to be proud of their cultures. Being a hard-working student and an athlete, this princess definitely deserves her crown.
Leave a Comment
About the Writer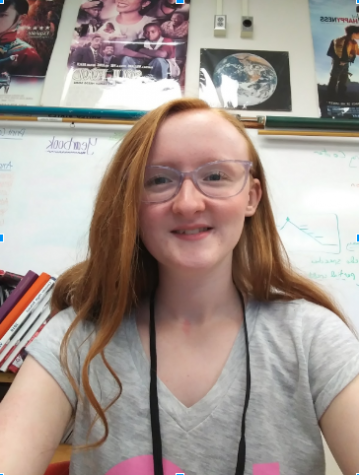 Cadence Smith, Reporter
Hey guys! My name is Cadence and i'm a Freshman. One thing about me is that I love the color purple. I like to write, which is obvious, and love to read....