Adi Mehlin and Makaley Smith
By Anh Mai
Living in 11 different states between them, Adi Mehlin and Makaley Smith finally crossed paths when they were placed in the same class in 5th grade at Calvert Elementary. With both of them being from military families, they already had something in common.
Both Adi's parents have served and are now retired, and Makaley's father was in the Air Force. During their lives, they have moved around a lot; Adi has lived in eight different states as well as various locations in Lincoln. Smith has lived in three different states.
"It is hard being a military kid," Smith said. "I have moved a lot and have had to go to a new school with new kids every so many years."
Having someone to talk to, someone you can relate to, makes it easier, because you know you're not alone," Mehlin said.
"Nebraska is kinda weird, I've lived in quite a few different places and it's definitely different," Mehlin said. "They have good public schools and there are lots of resources [opportunities]."
Recently, Smith experienced some other challenges at home. She reached out to Mehlin because she was the first person that popped into her mind. Mehlin provided a lot of support for Smith in this time.
Being in a military family puts a lot of pressure on the people in those families, Mehlin said.
"The situations between our [families] are almost identical," Mehlin said. "I know almost to a T what she's feeling."
Although they do not have many classes together, their connection remains strong. After elementary school, they started to grow apart in middle school but later rekindled their relationship.
Mehlin participates in orchestra and plays the cello while Smith is active in choir. Smith spoke about how she volunteers at her church a lot and Mehlin participates in the Debate team.
When asked to describe their experience with Nebraska, they described it as very different and smaller than places they have lived before.
"It [Nebraska] is small," Smith said. "I lived in South Carolina in Charleston and there was a lot more people and city."
It is not difficult to see that Mehlin and Smith have a strong friendship and connection to each other. They enjoy exchanging jokes and witty banter in their time together. When asked if they have anything in common, they spoke about taking the Honors route, participating in musical events, and having military families. They value having strong communication with not only each other but as well as with their family.
During the school day, they do not have many classes together. However, they are still able to communicate with each other usually at lunch, which is "prime time for socializing" Mehlin said.
Through the similar hardships of their lives, they have created a strong connection and have nurtured it even more after their family difficulties.
Smith and Mehlin both explained that they share similar values of strong communication, as mentioned before, and believe that bottling up emotions are unhealthy and toxic.
"In general, if your situation isn't the same as someone else's, just being able to talk to people is really helpful and bottling up emotions is not the way to go," Mehlin said.
During their interview, they both showed a lot of compassion and empathy towards each other. It was easy to observe that despite the fact of the hardships of their life, it has shaped them both into strong individuals and has been a key component in their relationship.
"I would describe Makaley as charismatic and knowledgeable," Mehlin said. "She has had many experiences in her life that people could learn from. She is understanding, sympathetic, and is always willing to help people out."
"I think Adi is a great friend," Smith said. "She has a great sense of humor and is kind. She is super smart and helpful."
After their eventful lives of moving around from state to state, they met in 5th grade and started a relationship that would follow them all the way to high school. Through the rough patches in their lives, they had someone to turn to when they needed an outlet.
Even though they both describe Nebraska as a little weird and in the middle of nowhere, it was the place where Mehlin and Smith crossed paths and began their friendship.
Leave a Comment
About the Writer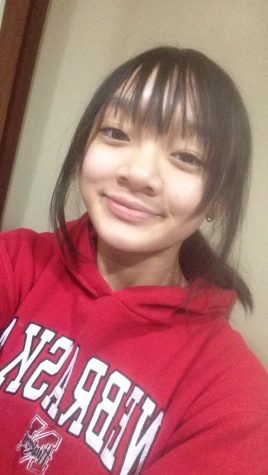 Anh Mai, Reporter
I am a tenth grader at Lincoln High. I am a Pre-IB student and participate in many activities. Some including Sinfonia Orchestra, Advocate, Upward Bound,...