LinksLive! The LHS News Broadcast 12/17/19
Tuesday, December 17, 2019
Good morning Lincoln High, Welcome to LinksLive! The Lincoln High Morning News Show.
I'm Jacob Vanderford, and I'm Tyler Schumacher.
It's the last regular day of the semester, and this will be the last episode of LinksLive! until we return from Winter Break. We won't be having the morning broadcast during finals, but we will put information and announcements on the Daily News tab of the Advocate Online. From all of us here at LinksLive!, good luck with finals this week, and have a great break!
Speaking of finals, the Final Exam schedule is on the LHS Home page at lhs.lps.org and it's listed below in today's transcript. Exams are TOMORROW through Friday. Wednesday's exams begin are for periods 5, 6, and 7. Thursday's exams are periods zero, 3 and 4. And Friday's exams are periods 1 and 2. Good luck!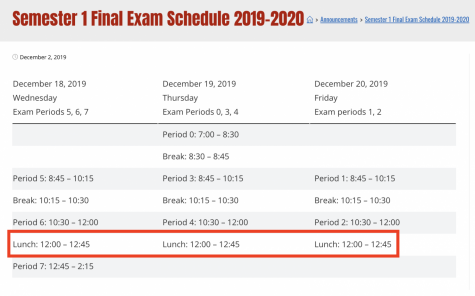 During our Finals schedule, we will have one lunch period each day from 12pm-12:45pm. Teachers will be available to work with students each day this week until 3:15pm.
"There are no after school groups today due to finals this week, but you CAN join us in the Media Center for STUDY TIME after school until 7pm.
During Final Exams the Media Center will be open Wednesday and Thursday from 7 am to 7 pm for studying. On Friday, the media center will open at 7 am but closes early at 12:45 pm. Also, tutoring will not be offered after school Wednesday, Thursday, and Friday.
Here's an update about the STEM club fundraiser that was scheduled for tonight. That event has been CANCELED. Again, The Arby's night fundraiser has been canceled for tonight.
HOWEVER, Lincoln High School theatre IS having their annual blackshirt fundraiser TONIGHT from 5-8pm at the downtown Raising Cane's! Cane's is donating 15% of their sales to support Lincoln High's technical theatre program! Please stop by anytime from 5 to 8 pm for some delicious chicken, and make sure to mention Lincoln High at the register! Thank you so much for supporting your fellow links!
Attention all thespians: Auditions for Lincoln High Theatre's Musical are TONIGHT AND TOMORROW! Sign up for a time slot on the Tech Room doors. Check the google classroom at u1dk7v for any music or choreography you need to learn to prepare for your audition. Also, stop by the tech room in the theatre hall to grab an audition packet and have it filled out and signed by a parent before your audition! Break a leg!
Reminder-Hope Squad and Fighting Links nominations are happening now. The deadline to nominate has been extended to TODAY Tuesday, December 17th. Use jump code PMYG to nominate someone you feel comfortable talking to.
Please save the date for the LHS CLC Open House Wednesday January 8th from 4-6pm in the LHS Cafeteria: Prizes, Food, Learn about FREE DINNER next semester and about ALL OF OUR AFTER SCHOOL OPPORTUNITIES!"
"Here's another fantastic announcement from Fellowship of Christian Athletes! We just wanted to wish all Links the very best as they prepare for Finals. As Mr. Larson would say, 'show grit' over the next three days and do your best! Oh, and today's movie quote is: "NOW THAT'S SOME HIGH QUALITY H20!" The first person to email Mr. Droud with the correct movie title will win a "fabulous" prize, so get those emails going!
"Congratulations to Varsity Wrestlers for getting 4th at the Omaha South Invite and to the JV team at the Lincoln Northeast Invite!! Congrats also to the following wrestlers for being in the top 4 at both Tournaments:
On Varsity:
1st: place went to Jackson Okereke
3rd: place finishers were Pla Plot Soe, Korbin Arnold, and Quinn Thew
On JV:
1st: place went to Jesse
3rd: place to Dax, Jahhfarr, and Lay Htoo
And 4th: to Kayran and Ser Pho Htoo
Congratulations wrestlers.
And on the lunch menu today, we have:
ENTREE
Chicken Nuggets
Breaded Pork Sandwich
Pizza Flavored Breadsticks with Marinara Sauce
Chef Salad
MEATLESS ENTRÉE
Chik'n Nuggets
Meatless Chef Salad with a Roll
And if you see Ms. Fargo today, be sure and wish her a happy birthday.
That's all for today. Remember that you can see all past episodes of our show on The Advocate Online website at LHSAdvocate.com and a list of all jump codes through the master jump code YZYR.
Thanks for watching our broadcast, and we'll see you again next SEMESTER on… LinksLive!
LinksLive!
Season 1: Episode 81
December 17, 2019
Produced as part of Lincoln High Broadcast Journalism Class
Anchors:
Tyler Schumacher
Jacob Vanderford
Camera Operator/Lights/Audio:
Evan Schomer
Teleprompter/Studio Setup:
Avalena Baird
Post-Production:
Tyler Schumacehr
Adviser:
Greg Keller
Lincoln High School
2229 J St
Lincoln, NE 68516
(402) 436-1301
lhs.lps.org
LHSAdvocate.com
LHSAdvocate.com/category/linkslive