CLC Open House showcases after school opportunities…and pizza!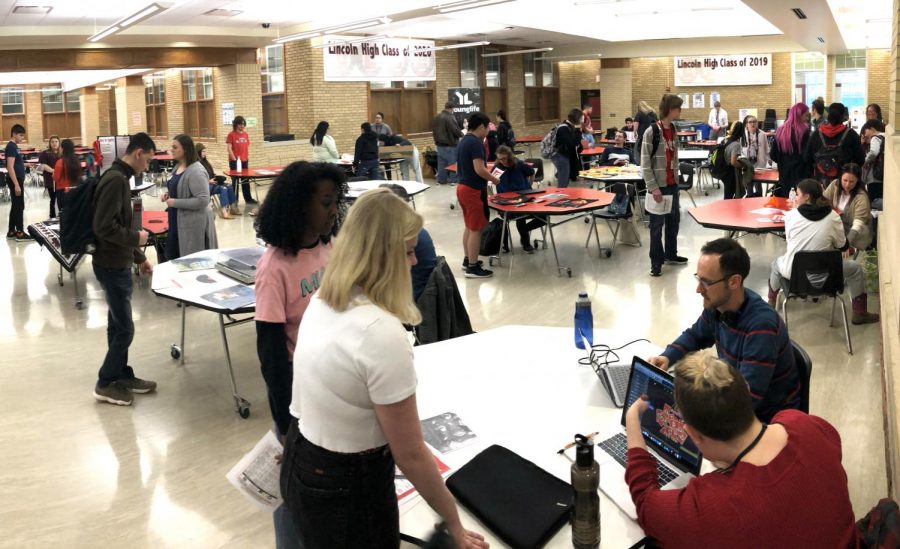 The first Lincoln High School Community Learning Center (CLC) Open House had a great turnout on Wednesday, Jan. 8, 2020, with over 100 attendees coming through to learn more about the After School Opportunities at LHS CLC.
The open house took place in the LHS cafeteria from 4-6 p.m. and featured booths from various groups and organizations to let students and parents know what kinds of things were available.
"We had a lot of fun learning more about the awesome programming that is happening after school at LHS," School Community Coordinator Chelsea Egenberger said. "We have such a variety of opportunities that range from physical activities like Hip Hop Dance, IIG Step Chain, & Intramural Basketball, to cultural groups like Latina Leaders, Yezidi Program, and Korean Club, to skill development like American Sign Language, Beats 101, and Wise Mind Project."
Attendees enjoyed delicious Yia Yia's pizza while roaming tables to complete their "LHS CLC Bingo" cards.
Bingo winners walked away with a variety of prizes including two bikes donated by the Lincoln Bike Kitchen, Marcus movie theater tickets, and gift certificates to places like Starbucks, McDonald's, Cane's, Cultiva, and Paint Yourself Silly! There was also plenty of pizza.
"We also provided more information about our new LHS FREE Dinner option that will start next Monday," Egenberger said. "We are so lucky to have an amazing community that supports making Lincoln High a full service community school."
For a list of current after school groups and opportunities, click on the Activities tab at the top of the LHS Home Page.