LinksLIVE! The LHS News Broadcast 2/7/2020
Friday, February 7,2020
Good morning Lincoln High, Welcome to LinksLive! The Lincoln High Morning News Show.
I'm Rodrigo Muñoz, and I'm Alina Osborn.
It's Music Friday! Guess the theme for the music being played between classes and you could win a prize! Enter your guess on the form using the jump code: OMY7
Reminder that the winter pep rally is TODAY immediately after second period. Classes will be dismissed over sound. Students are asked to sit with their second period class. See the adjusted bell schedule in the transcript below and also on the Advocate Online home page at LHSAdvocate.com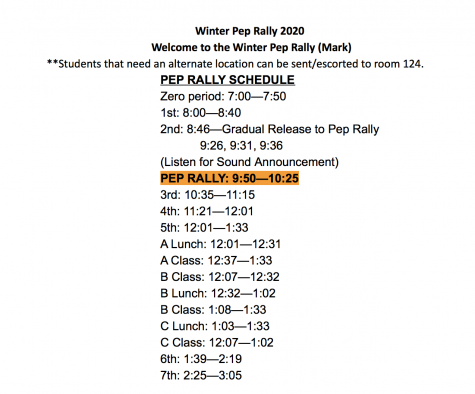 All boys not in a winter sport who are interested in playing soccer this spring should attend a brief meeting Today at 3:15pm in room 157 (The Athletic Conference Room). We will discuss the remainder of the preseason, getting ready for tryouts, and what to expect for tryouts.
Anyone interested in playing boys golf this season, there will be a 5-10 minute meeting on Monday Feb. 10th in room 144 at 3:15.
"I'm Juliana Quattrocchi on behalf of your friendly neighborhood student council. Buy a sweet for your sweetie Monday and Tuesday in the cafeteria during lunch. Candy grams are just $2 each and a Student Council member will deliver them on the Friday morning of Valentine's day.
Seniors and staff, if you're interested in playing in a student versus staff volleyball game to spike out mental illness on March 27th, let us know using the jumpcode PLY4. That's PLY4. Go Links!"
"I'm Lincoln North Star Senior, Azza Elhaj from the Youth Chapter of NAACP and this is your black history month fact of the day. Marcus Garvey is the founder of the United Negro Improvement Association. And he says, "A people without the knowledge of their past history, origin and culture is like a tree without roots."
Young women interested in playing soccer for Lincoln High. There will be quick informational meeting after school regarding tryouts and fundraising in room S331 after school on Monday (2/10/20)
Please pick up honor roll and perfect attendance certificates from the main office (room 200) so you can proudly display them on the fridge tonight. Congratulations!
And In sports:
Boys and Girls Varsity and JV Basketball teams take on Fremont Senior High at Fremont tonight.
Girls and Boys JV tip off at 4:30, Varsity Girls begin at 6 p.m. and the Varsity Boys games starts at 7:45.
On Saturday morning, Boys Wrestling takes the mat at 9 a.m. in an invitational here at Lincoln High.
Then in the evening, Varsity and JV Boys and Girls Basketball teams will go head to head against Bellevue East. These games will be at Lincoln High starting with Boys JV and Girls Varsity at 5:15, and ending with Varsity Boys and JV Girls at 7 p.m.
And congrats to the LHS Varsity Wrestling Team for another dual win last night on Senior Night vs Omaha North!!
Student Section Video:
Hey Links, this Friday the basketball teams will be competing in Fremont against the tigers. The theme for this game will be denim. Girls Varsity starts at 6:00 and boys varsity starts at 7:45.
Then again on Saturday the Links will play against Bellevue East here at Lincoln High. The game is set to start with girls varsity at 5:15 and the boys to follow at 7:00. The theme for this game is Whiteout.
So come out and wear your white outfits and come support the Links to a victory. Go Links!
Today's After school Opportunities:
– Life After High School meeting in 100L
– Homework Zone in the Media Center
All students MUST Be in a supervised activity by 3:15pm. You will need a pass if arriving after this time. Once students leave the building, they will not be able to reenter.
Reminder – there is NO dinner on Fridays, but we will have snacks for students in CLC programming!
On the Lunch Menu today, we have:
ENTREE
Breaded Chicken Sandwich
Personal 3 Meat Pizza
Beef Enchilada
Chef Salad
MEATLESS ENTRÉE
Chik'n Sandwich
Meatless Chef Salad and a roll
That's all for today. Remember that you can see all past episodes of our show on The Advocate Online website at LHSAdvocate.com and a list of all jump codes through the master jump code ZYR.
Thanks for watching our broadcast, and we'll see you again next time on… LinksLive!