Congratulations LHS Class of 2020!
During the school closure this past fourth quarter of the 2020 school year, the faculty and staff of Lincoln High recorded messages of congratulations to the LHS Senior Class of 2020 which will be shown during the in-person graduation ceremony at Pinnacle Bank Arena tonight at 5:30 p.m.
*UPDATE: Here is a link to the recording of the graduation ceremony on the LPS YouTube channel.*
The ceremony will be livestreamed on the LNK TV Education Channel. The broadcast will begin 30 minutes before the start of graduation.
Below is information about in-person ceremonies that was posted on the LPS Website.
Congratulations! We look forward to offering in-person graduation and celebrating with you!
PLEASE NOTE: We continue to work with the Lincoln Lancaster County Health Department and all plans are subject to change based on guidance from them. We will continuously re-evaluate our ceremony plans with LLCHD based on conditions and communicate with you if there will be any changes. We will follow the LLCHD guidelines for events to help keep students and staff safe and reduce the spread of COVID-19. Thank you for your patience and understanding as we work through all the details.
LPS high school graduation ceremonies for 2020 will be at Pinnacle Bank Arena and are scheduled as follows:
Friday, July 24
Northeast High School, 6 p.m.
Saturday, July 25
Southwest High School, 8:30 a.m.
East High School, 1:30 p.m.
North Star High School, 6:30 p.m.
Sunday, July 26
Southeast High School, 12 p.m. (noon)
Lincoln High School, 5:30 p.m.
The in-person ceremonies will be livestreamed on the LNK TV Education Channel. The broadcast will begin 30 minutes before the start of graduation.
For All Students and Families…
Each student will receive six guest tickets with assigned seats. Tickets will be required for guests to enter. These tickets have been randomly assigned. Families will be able to pick up their tickets in their school's main office on Wednesday, July 15 OR Friday, July 17 from 8 a.m. to 4 p.m. On the day of graduation, Pinnacle Bank Arena staff will be on hand to assist any person(s) needing accommodated seating.
Before leaving home, if you answer yes to any of these symptoms please stay home:

Fever of 100.4 degrees Fahrenheit
Cough
Shortness of breath or difficulty breathing
Chills
Repeated shaking with chills
Repeated muscle pain
Headache
Sore throat
New loss of taste or smell

If you, anyone in your household, or anyone you have had close contact with have recently tested positive for COVID-19, please stay home.
Paid parking is available in the parking garages near Pinnacle Bank Arena to the south.
In order to maintain a safe and secure environment, Pinnacle Bank Arena will enforce its Clear Bag Policy during Lincoln Public Schools graduation ceremonies.
Doors will open one hour before the ceremony. Please enter the main doors on the south side of Pinnacle Bank Arena (off R Street) and follow directions to the seating area.
Face coverings for students, staff, family and guests will be required.
Students will wear caps and gowns.
Students will report to the main floor 30 minutes before the start of the ceremony.
When students arrive, they will find their name card on their assigned chair (alphabetical order) and have a seat. Staff will be available to assist students.
Students, when directed, will take the card on their chair with them to the stage and hand it to the pronouncer as they enter the stage.
Staff will work with students prior to the ceremony on name pronunciations.
The in-person ceremony will be livestreamed on the Lincoln Public Schools website and the LNK TV Education Channel.
This year's ceremony will look different than it has in previous years as we follow the health department's recommendations to help reduce the spread of COVID-19. There will be no live music performed, and contact between individuals will be limited to handing students their diplomas. There will not be any handshakes, hugs, elbow bumps or high fives.
The principal will begin the ceremony, followed by remarks from a Lincoln Board of Education member, a member of the Superintendent's team and student speakers.
The principal will direct students when it is time to come to the stage to receive their diploma cover. Staff will assist students to the stage.
Professional pictures will be taken as students enter the stage and as students exit the stage.
As students finish with their photos, staff will be at nearby tables to hand students their graduation packets that contain their diploma and awards.
Students will return to their assigned seats.
At the end of the ceremony, the principal will give directions for students to dismiss starting from the back of the seating area. Students will continue until they've exited the building.
To help with reducing the amount of congestion and help with physical distancing, families and guests will dismiss from the back and top rows first.
We suggest each family plan a location to meet their child outside after the ceremony.
Clear Bag Policy In Effect
In order to maintain a safe and secure environment, Pinnacle Bank Arena and the University of Nebraska-Lincoln share a common Clear Bag Policy which will be enforced during Lincoln Public School graduations.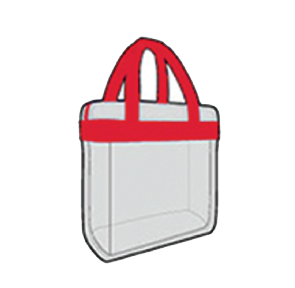 Participating seniors must wear the traditional graduation gowns, caps and tassels. We would like all students to dress appropriately for a dignified ceremony.
Tassels will be worn over the right eye. Mortarboards are to be worn with the flat surface horizontal.
Please leave purses or bags at home, or your clear bag with your family.
Nuisance items (e.g. sunglasses) will not be allowed in the arena.
Keep your mortarboards and gowns neat. No writing or taping will be allowed.
Multilayered face coverings will be required.
Distracting and discourteous behavior will not be tolerated. We request that family members and students leave air horns and other noisemakers, balloons and other items which might cause a distraction at home. Seniors who do not wish to abide by these expectations should not plan to attend the ceremony, which has always been optional. If a student is under the influence of drugs or alcohol, he/she will be ticketed by the police and will not be allowed to participate in the ceremony.
Leave a Comment