LinksLIVE! The LHS News Broadcast 8/17/2020
Good morning Links and welcome to this audio-only edition of LinksLIVE!
Here's a graphic with the Bell, A/B Class, and Lunch Schedules for this first couple of weeks.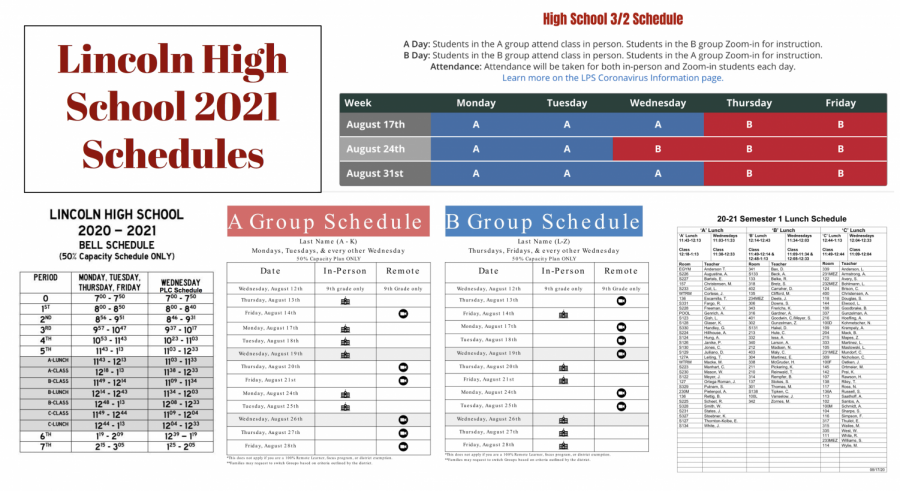 LHS CLC THIS WEEK:
The Media Center is running normal hours after school: Open from dismissal until 6pm Monday through Thursday, and until 4:30pm on Fridays.
Join Mr. Matulka for Math tutoring Tuesdays and Thursdays from 3:15 to 4:30pm in room 100G located inside the Media Center. STARTING THIS WEEK!
the LHS FREE Dinner Program starts this week: It runs Monday – Thursday serving from 4:00-4:30pm, and from 3 to 3:30 pm on PLC Wednesdays
A Parent or Guardian signed waiver form MUST be completed in order for students to participate in CLC programming including the Homework Zone in the Media Center, the Free Dinner Program, and various after school groups.
This waiver can be completed online using Jump Code BAYM once again, that's BAYM
Printed waivers can also be picked up in the Family Resource Center room 201 or the Media Center and is available in Arabic, English, Karen, Russian, Spanish & Vietnamese.
We will honor a grace period this week from August 17 to the 21st to inform students and guardians of the need to complete the waiver to participate in the Media Center & Dinner Program.
LHS CLC GROUPS will start after labor day and will include Zoom/Remote options!
Students can also complete the CLC General Enrollment form to tell us more about their interests, how CLC can support them, and how to stay connected during the school year. Students can find this form at Jump Code: Y2PN, that's Y2PN
The CLC GROUP SPECIFIC Enrollment form is being finished up and will be released this coming week. Students will NEED to enroll to participate in CLC Groups.
To stay up-to-date on CLC opportunities, resources, and community information please join the LHS CLC Google Classroom using class code: PAKWELP and check out our website at www.civicnebraska.org/lhs
Please reach out to School Community Coordinator Chelsea Egenberger if you have any questions, comments, suggestions or thoughts!
——————————–
Attention all Art students from last semester! We want to reunite you with your artwork. Please find your art teacher after school and claim your work–this includes paintings, drawings, ceramic and jewelry pieces. Any artwork left after August 21st will have to be sadly discarded to make room for the new work. Contact your art teacher, if you have any questions or would like to finish the piece.
—————————–
Today on the lunch menu you'll find: Teriyaki Chicken on brown rice, chef salad with a roll, stuffed-crust cheese pizza, black bean bowl with brown rice among other favorites including chicken patties, hamburgers, and pizza.
—————————-
Thank you for watching and we hope to see you again next time on LinksLIVE!.