Crocs come back from the dead!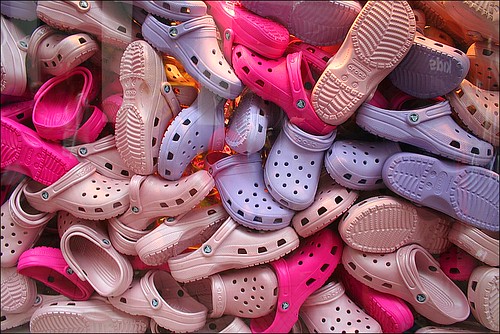 As time goes on, a lot of old trends are coming back to us. Scrunchies, Chunky Shoes, Bell Bottom Jeans, and so much more! But one of my favorite come back trends is Crocs!  As you look around the school, I'm sure you've seen them on some students and teachers' feet. They come in all colors. There are even some winter crocs with fuzz in them! 
Why are Crocs making a comeback? Is it because they're cute? Comfortable?
"Crocs are just the style again, I like the way they look, and they're comfortable," said junior Jareese Lott-Buzby, starting quarterback who owns his own pair of purple crocs. Lott-Buzby isn't the only person who thinks this way.  Ge'neah Moody, a Lincoln High Junior, owns 10 pairs of Crocs! All of them might remotely look the same, but the fun vibes they give off are all very different. She has a pair of hot pink Crocs, cow print Crocs, and tan winter Crocs. That was only 3 pairs, so imagine how much fun her other pairs are! 
The shoe hasn't always been this popular though. In 2008 investors were dismissing the shoe that would later sell 700 million pairs! Investors were not the only people to dismiss the shoe. Ask your parents what they think of this comeback trend! Katie Ness, my mother, said "I've always thought they were ugly…It's ironic, a lot of trends from when I was a teen are coming back, it's fun to see the kids in old trends." 
Another reason Crocs are so popular is because they are affordable! As you grow up, your teenage years are when you have more independence and develop your own spending habits. A pair of Crocs are perfect for this because they are in style, comfortable, long-lasting, and 35 dollars! 
A Lot of famous celebrities have been popping out in these stylish shoes as well! Ariana Grande, Justin Bieber and Post Malone all have their own pair! Will this trend be alive in ten years from now or dead to us like they were to our parents at a point in time? I guess none of us can answer that question, but until then, keep cruising in your Crocs!
About the Writer
Mckenzie Ness, Reporter
Hi! My name is Mckenzie Ness and I am currently in my Junior Year. I am an Athletic Trainer , and I am very passionate about the Black Lives Matter movement.