William H. Lawrence: Former Link honored with Media Center display
Audrey Perry – FEATURE
Distinguished: successful, authoritative, and commanding great respect.
Throughout Lincoln High School history, many alumni gone on to achieve great things in both their careers and lifetime, and, along the way, have stayed true and uplifted the values of Lincoln High. Many have been acknowledged via the Distinguished Alumni Award to recognize, celebrate, and honor those that, "have brought distinction to the school by virtue of accomplishments in their fields of endeavor."
The award has accrued over 110 recipients in the 39 years it has existed. Members line the walls of the school to be remembered by the students that now learn in the same halls where the foundations for their success was cultivated for the high achievers honored by the award. While many have been given the opportunity to be honored, some have fallen short of the requirements, or just missed the chance. The latter is the case for Lincoln High School, Class of 1932 alum, William H. Lawrence. After passing away on March 2, 1972 from a surprise heart attack, "Bill" was just 5 years short of being able to win the award, because of his untimely death, and the recognition for his outstanding work in journalism and political analysis. It is now impossible for him become a distinguished alum, as the policy states the, "Nominee is able to attend the Distinguished Alumni Ceremony" in order to qualify. Despite the barrier, Lincoln High has decided to recognize his accomplishments in a different way.
Lawrence was born on January 19, 1916, right after the height of investigative journalism in the progressive era. As a native-Lincolnite, Lawrence attended LHS where he was editor-in-chief of The Advocate, spent time on the debate team, and graduated on honor roll. From there he spent a brief amount of time at University of Nebraska-Lincoln in the masters program.
Soon, his time spent at UNL was over when he was hired as a cub reporter for the Lincoln Journal Star at 17 years old. Two years later, he moved on to work for the Associated Press and then in 1937 to the United Press. His first major assignment at the age of 21 was the 1936-1937 Flint Sit-Down Strike. After receiving great recognition for his first real story, Bill was transferred to Washington and started the venture mass media journalism. He was first noticed there by Arthur Krock, a Pulitzer Prize-winning American journalist as the Washington correspondent and bureau chief for The New York Times. He was offered a place as one of The Times' bureau reporters as he demonstrated "assertiveness in ferreting out news." In the duration of his career spent with The New York Times, Lawrence covered many diverse stories of historical importance including but not limited to, international coverage of World War II, The Korean War. And throughout this period he worked as a war correspondent in Okinawa, Guam, Japan, and Moscow and eventually in Poland, South America, and The Balkans.
His focus soon pointed towards Washington and the hot-topic politics of the time. For his last three years starting in 1959, he became president of The National Press Club and most of his stories with The Times became front page news. Then, in 1961, James Hagerty, Eisenhower's press secretary, became vice-president of American Broadcasting Company. Having known Lawrence and being familiar with his work, Hagerty offered Lawrence a position as chief news analyst and began his saga that would lead to big accomplishments. Soon, Lawrence, along with John Cameron Swayze and Al Mann, became anchors for the ABC Evening Report. Though it proved to be unsuccessful, Lawrence continued his work with ABC as both a political and national affairs editor. His new job would be to "concentrate on comment and analysis concerning the new administration taking place plus other developments of national importance," William Sheehan, former director of ABC News reported.
During this period of time, Lawrence anchored on the Sunday morning news program Issues and Answers. On this show, he predicted that Lyndon Johnson would not run for re-election in the coming race of 1968, two years before the election would occur. On March 31, 1968 Lyndon Johnson appalled Americans as he declared that he would not seek for re-election. "I do not believe that I should devote an hour or a day of my time to any personal partisan causes or to any duties other than the awesome duties of this office–the Presidency of your country. Accordingly, I shall not seek, and I will not accept, the nomination of my party for another term as your President."
As a result of this event, Lawrence was greatly awarded for his work; mainly his shockingly accurate prediction. He was described in the Peabody Awards as a "quintuple threat man-he can write, report, speak, edit, and put it all on the air." He was given the Peabody Award for his "Moment of Truth" prediction of the outcome of the 1964 Governor's conference in Cleveland, as well as the accuracy and exceptional work in journalism throughout his career.
Unfortunately, on March 5, 1972, Lawrence passed away from sudden heart attack, just five days away from crucial vote in the Muskie and McGovern election, which he was covering at the time. Just 4 years prior, he was diagnosed with pulmonary edema, and though his workload was decreased, he still spent his final years devoted to his career.
Recently, Lincoln High was contacted by a friend of the Lawrence family, Bobbi Kierstead. She was in possession of some crucial pieces that follow the life and career of Lawrence. Kierstead made a donation to the LHS Archives that consisted his Peabody Award Certification, original photographs of Lawrence interviewing President Truman, Eisenhower, Kennedy, and, Johnson. These artifacts were accompanied by a signed copy of his book, 6 Presidents, Too Many Wars, and several other documents.
In an effort to honor his work, LHS archivist, Carter Hulinsky, devoted a display case in the LHS media center to hold artifacts from Lawrence's career. Although it would be impossible to remember and recognize Lawrence as a distinguished alumni, students will now be given the opportunity to learn of his accomplishments and acknowledge his legacy. Russell Baker, a reporter for The Times marked Lawrence as, "the only political reporter in history to whom politicians told everything because they were afraid if they didn't he might beat them up. Yet below that belligerent scowl lay a heart so gentle that he could never harm a flea, in case you're reading this, Bill."
Leave a Comment
About the Contributor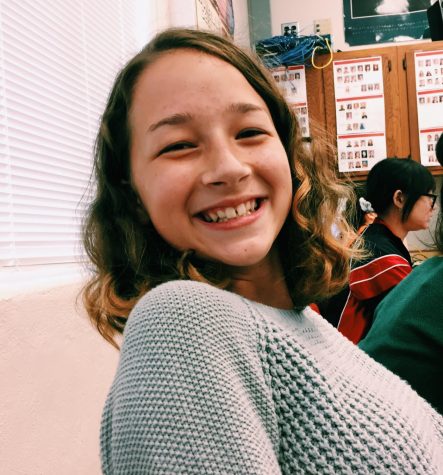 Audrey Perry, Editor-In-Chief
Hello! My name is Audrey Perry and I am an IB Junior at Lincoln High. It is my third year with The Advocate and I am currently the Editor-In-Chief on staff....