Rockstar in Denial: Will Gades is "Miss Taken"
By Emily Price
Many people dream of making it big, selling out arenas, rocking out in front of hundreds of fans; being a rockstar. While few may actually achieve this, the ones who do will forever be remembered.
Will Gades (pronounced like "Goddess"), a senior at Lincoln High School, is following his road to the rockstar dream. Between the multitude of bands he has been apart of, his virtuosic nature, and his absolute passion for music, Gades can easily be characterized as a rockstar.
Throughout his teen years, Gades has been a member of seven bands that had names, in addition to the first few that were nameless. "The first one with a name, it was an awful name, was The Big Red Rejects," Gades said. Since The Big Red Rejects, he has been a part of Erosion ("which," according to Gades, "eroded"), the Rolling Stones cover band called Exile on 'O' Street, Mannix, Trexler, and his most recent band Miss Taken.
But this raises the question: What is a rockstar?
"That's a tough question to answer because there are so many definitions of rock stars. I mean, there's the Kanye definition, but… Well, I guess certain definitions coincide with each other," Gades said. "I would define a rockstar as a musician who enjoys what they do, who has fun onstage, and someone who shows a lot of confidence on stage. Not necessarily offstage, though, because you only see them onstage."
Even though all of these characteristics match up with Gades's personality, he does not consider himself a rockstar. "But people will call me that and I will take it," Gades said.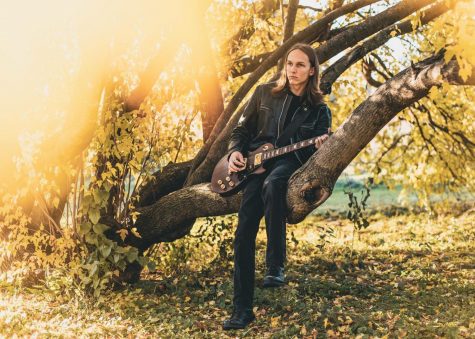 People call Gades a rockstar for reasons such as his experience with music and his absolute love for it. He first started playing guitar, his go-to instrument, around six or seven years ago. Gades recalls that his first guitar was, "a red Squire Stratocaster, like many peoples' first ones are." Throughout his adolescence and teen years, Gades also picked up the bass guitar, drums, didgeridoo, as well as vocals. "I am hesitant to say vocals because I don't think I am a good singer… At all," Gades said.
In terms of specific musicians and groups that are inspirational to him, "It's a long list… a really long list," Gades said. "Definitely Dave Grohl though. He's an amazing musician and super cool. I look in a lot of directions because I don't want to be single-minded musically."
Even in regards to genre, Gades does not confine himself to one category.
"I played a variety of genres, but the ones that have stuck are hard rock and blues," he said. "So those are always my go-to. And punk rock, of course."
Gades found his passion for being part of the band after experiencing a few successful gigs. "I can't say I have a real "aha" moment with wanting to be a musician. I think it just came with the more I practiced with my band and the more we played. We started drawing crowds, and I said to myself 'This is something I could do with the rest of my life,'" Gades said.
Though he is currently part of three different bands, Miss Taken is the only one that is actively practicing and playing venues. His favorite song to play in any venue, especially live, is the band's original song, "Sick of It".
"Which is available for download on Spotify, iTunes, Apple Music, and Google Play. Go buy it," Gades laughed.
The band Miss Taken went on tour a few weeks ago for a four-day stretch of shows in Iowa. This was an extremely significant experience for Gades.
"As exhausting as it was, and how much of a complete utter mess some of the shows ended up being, I wish that it would've gone on for at least another two or three months," Gades said. "We were also broke the entire time, so that didn't really help."
If you want to see Will Gades in action, Miss Taken's next show is at the First Avenue Lounge on October 27th. "But that's insignificant next to December 6th, we're opening up for LA Guns," he said.
Though he may not consider himself a rockstar yet, Will Gades is definitely rockstar material. He has years of experience behind him, is exploding with musical talent, and has mass enthusiasm for music. Hopefully one day in the near future, he will be able to recognize that he is mistaken, and will also see the rockstar that we do. Will Gades is truly a Lincoln High Rockstar.
If you know anybody at Lincoln High that you consider a Lincoln High Rockstar, email Emily Price at 210454@class.lps.org for a chance for them to be featured in the new series of The Advocate, "Lincoln High Rockstars."
Leave a Comment
About the Contributor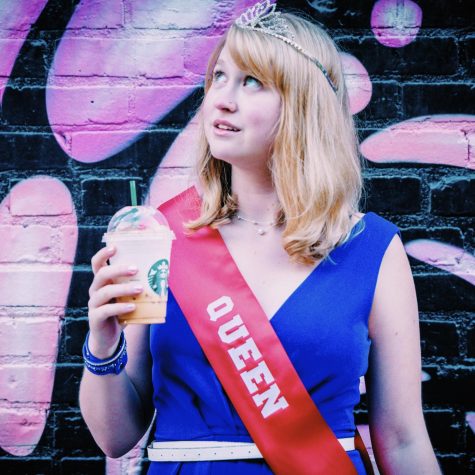 Emily Price, Reporter
Hey, y'all; Emily Price here! This year I am a senior here at the High. Other than being a staffer at the Advocate, I'm one of four of the lovely dance...