Nebraska Senate candidate continues discussion with Advocate staff
By Neive Rodriguez
On Tuesday, October 30th, Democratic U.S Senate Candidate Jane Raybould visited Lincoln High during 3rd period to discuss her campaign and relevant issues to the community. Raybould, who is running against Republican Senator Deb Fischer, says that she is running for U.S Senate for one simple reason: "Washington is broken and is failing Nebraska Families."
To begin her presentation, Raybould started by describing her qualifications. She is the vice-president of B&R Stores Inc, an employee-owned supermarket chain which includes Russ's and Super Saver. She also serves on the Lincoln City Council, has previously been Lancaster County Commissioner, and is a member of the Board of Directors of the Lincoln Chamber of Commerce.
"I'm passionate about public education. I believe it is one of the greatest equalizers in our society."
Lincoln High social studies teacher Carol Flora had her class generate questions to ask Raybould. After her presentation, Raybould made her way up to room 308 for a brief press conference moderated by The Advocate.
After her initial presentation, several students personally went up to her and had conversations about issues that mattered to them.
"It's very important to me to have Mrs. Raybould here today," senior Max Pearson said. "Because it gives us a chance to hear our (possible) senator's views, and it gives us a chance to to think critically about what the politicians in government right now are doing for us, as students, and as members of the community."
"[Even though]many of us [students] can't vote yet, it's still important that she would take time to talk to us and encourage us to do our civic duty," senior Sophia Olson said. "Whether that be going out and campaigning, or understanding what's going on in the election."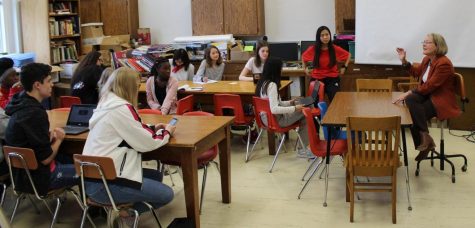 A question asked during the press conference was how Raybould in the senate would affect Lincoln High students.
"Well, one thing is that as a Senator, we have to make sure that funding for the public school system continues," Raybould said. "I'm passionate about public education. I believe it is one of the greatest equalizers in our society."
Nebraska is an amazing example of how to do education correctly, Raybould said.
"We do things right here. The federal government has a lot to learn from what we have accomplished here in our state of Nebraska. My goal is that we continue the funding from the federal dollars to keep doing what we're doing."
Raybould was also asked about her initiative to help the environment.
"We can't roll back regulations that are controlling the largest polluters in our country," Raybould said. "We've become a little more relaxed, thinking that those regulations are bad for business. But I can tell you, as a business person, that we have embraced being a better operator," Raybould said. "We have to elect officials that are willing to champion and challenge and not pull back on regulations that impact our state and our country."
Being a Democratic candidate in a majority Republican state, Raybould recognizes that she is the "underdog" in this particular election. However, her focus remains on defeating the extreme bipartisanship in our country, and she discussed how essential student involvement is in current politics.
"You really are the future of our country," Raybould said. "Don't ever take your vote for granted."
Leave a Comment