Swim for Hunger: LHS Swim Team uses personal goals to help community
By Audrey Perry
This 2019 season Lincoln High's Swimming and Diving Team decided to add a project that would impact the community to their season activities.
Swim for Hunger is a project that will, "pair our achievements in the water with generating contributions to the Lincoln Food Bank," Swim Coach Richard Conradt said.
Every time a swimmer beats a previous best time in an event, a certain amount of money will be donated to a fund, based on pledges by teachers that will go to the Lincoln Food Bank at the end of the season.
"The reason you do a community project is to get people to do something and give something back to somebody," Conradt said. "I'm trying to get the students to be more [involved]."
This money is covered by pledges that faculty make. Each time a personal a best is made, they have pledged to donate a certain amount under 50 cents to the fund. For example, "We have 8 or 9 faculty that have pledged right now," Conradt said. "The best is 3 cents, but we've had 2 people that have pledged 50 cents."
So far after the Cotter Invite on January 12 the team has made $404 with 68 personal bests. Their season-end goal is $500.
"It gives us something to work for that's beyond just beating our times," sophomore Kate Wansnider said.
Not only has the project made an impact on the community, it has also encouraged the swimmers to work harder.
"I think it's a really good way to keep kids motivated, just knowing that they are not only working for themselves and for their team, but for people they might never meet," freshman swimmer Conleigh Hemmer said.
Though Conrad has been teaching for 30 years, the fundraiser has only been going on for the past two seasons. He hopes to amplify the project in the coming years.
"What we want to do is to get it to be something we do every year and to be able to get the students to buy into it," Conradt said. "Other people should know about it. Hopefully I can get some students who buy into it then spread out and have other schools do it for their local community food bank."
Though the season is in full swing with only 5 meets left, it is possible to make donations to Conradt directly to be added to their contribution to The Lincoln Food Bank. You can reach him through email at rconradt@lps.org.
Leave a Comment
About the Contributor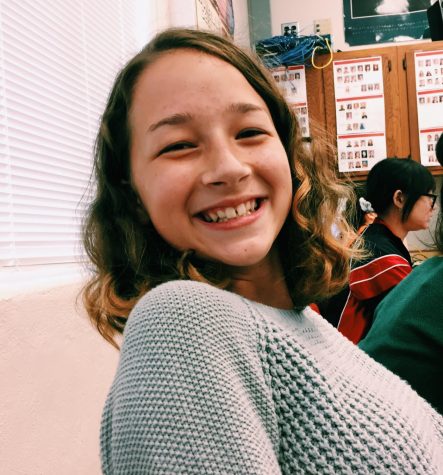 Audrey Perry, Editor-In-Chief
Hello! My name is Audrey Perry and I am an IB Junior at Lincoln High. It is my third year with The Advocate and I am currently the Editor-In-Chief on staff....