Boomer Jock
By Zeke Williams
"Boomer is one of the nicest people I've ever met, and he deserves to succeed," senior teammate Elvis Hallowanger said. "He works harder than any other person I know in the weight room, on the court, and on his own."
Buomkuoth "Boomer" Jock is a senior this year at Lincoln High School, and one of the starters on the Varsity Boys Basketball team. Coming in at 6'6," Jock maxes out on 315 pounds for squat, 220 pounds on hang clean, and 205 pounds on bench press.
Moving to Nebraska 8 years ago, Boomer lived in Tennessee and Iowa before moving to Lincoln.
"I love Nebraska," Jock said. "But I want to go back to Tennessee. I love the history there." Even though Jock loves Nebraska, he, "hates the bipolar weather." The hardest part about moving from Tennessee, he said, was leaving behind some of his family.
Jock hopes to graduate high school and college, and if he can, play for the NBA.
"I'd play for anyone, but the [Phoenix] Suns," Jock laughed. He added, "When I was younger, I really wanted to be a [Los Angeles] Laker. I still want to be one."
"I'm an athlete," he says. "I don't like standing in one place; I need to move and be produc- tive."
Jock's best moment during his career was the win against Papillion La Vista South in the first round of districts for Varsity Boys basketball.
"I was very excited to have another chance to play–the win felt great. We had great energy and we played really well that night. I was really proud of the team."
"Boomer is the leading shot blocker and is a great defender," junior Jaxon Eddie said. "[He] is one of the most important parts of the team. He has great leadership skills and a sparky personality on the court."
"Boomer has improved in every area of the game and has been a joy to coach and watch develop over the past 3 years," Coach Dan Noble said. "He has developed into one of the best inside players in the state as a senior."
"I really look up to Coach [Dan] Noble," Jock said. "He pushes me. The summer after my freshman year I was in the weight room for summer conditioning and he was in there with me, pushing me even harder."
"[Boomer's] work ethic and attitude has always been good, but he is also very coach- able," Coach Noble said. "He cares about improving and pushing his teammates to im- prove. He has also stepped into the role of being one of the leaders on this year's team. All of his teammates respect how hard he competes in practices and games."
If Jock doesn't go pro, he said he would want to be an Emergency Medical Technician (EMT). "I like to help people," Jock said. "I'm kind, I don't get mad, and I don't crack under pressure."
Jock has a healthy family life with seven siblings, three sisters and four brothers. Even though Jock is American-born, his parents immigrated from South Sudan to flee the civil war when one of his brothers was only one year old, leaving two of his brothers behind to take care of their aging grandmother.
"Stay in school, kids," Jock remarked.
Leave a Comment
About the Writer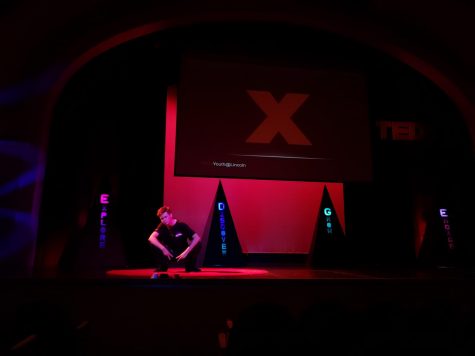 Zeke Williams, Reporter
Yo! I'm Zeke. I'm a staff member here at The Advocate, and I'm a senior this year at the The High. Go Links. I'm one of the Technical Representatives...