Momentum show choir wins second place at final competition
By Angel Tran
On Tuesday, March 26,2019, LHS Momentum Varsity Show choir traveled to Norfolk High School and placed second in the eleven-team, level one Northeast Community College Jazz Festival in Norfolk, Nebraska for their last regular season performance.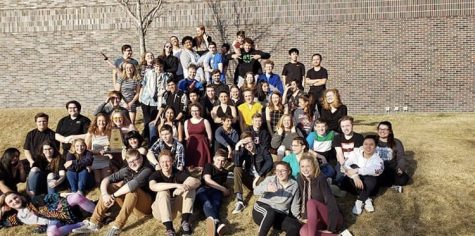 "It feels so unreal that our season is basically over," senior captain Emily Price said. "I have grown so close with everyone and I'm glad we still have a couple of middle school performances left so we can still be together."
Momentum begins their show with the song, "Mad World," by Tears for Fears, a chilling group performance led by sophomore soloist Mason Madden in a mash-up, the mixing of two or more songs, with "How Far I'll Go," from Disney's Moana Soundtrack featuring soloists junior Phu Le and sophomore Say Mia Htin.
"Mad World is kind of a song about lost hope in society around you," Price said. "It starts off our theme of hopelessness and not knowing what to do, but as the show progresses, the hope progresses."
Their next song is, "Ball of Confusion," by the Temptations. The soloist for "Ball of Confusion" is sophomore Abraham Cervantez, freshman Zeph Siebler, senior Emily Price, sophomore Kelsey Davenport, junior Carl Schack, sophomore Emma Harner, sophomore Reagan Gordon, junior Layne Larabee, junior Lars Bandhols, and freshman Regina Hinkley.
"This song is definitely a ball of confusion," Price said. "This song was written in the '70s during the civil rights movement and after the passing of The Civil Rights Act. We thought this song was really powerful because a lot of other show choirs perform songs that are Disney-esque and super happy, but our theme this year really challenged these stereotypes."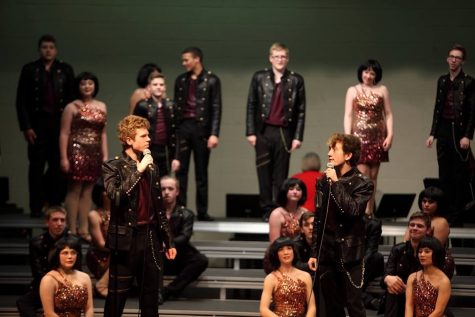 "Found/Tonight," a mashup from the broadway musicals, "Dear Evan Hansen," and "Hamilton" is their powerful ballad, and core of their show. Senior Sam Mitchel Sturgeon and junior Ben Schmaderer are soloists for this song.
"While it means something different to everyone else, the lyrics tell somebody who feels alone and then moves into a more happy place towards a place where everyone is accepting," Junior Layne Larabee said.
The men's song is, "Believer," by Imagine Dragons.
"Believer is a song that we all rock out to," Larabee said. "We had a lot of fun putting this song together with how fun the moves are and guys being dudes."
"I have a lot of respect for the way the men perform their song," Price said. "Each time they performed it, it just got better and better. I truly am amazed."
The women's song is, "Rhythm Nation," by Janet Jackson. During this song, the women of Momentum have a costume change.
"Rhythm Nation was really hard for the girls," Price said. "It was difficult for us to find our inner Beyonce, and Simpson brought in an old student of hers who really helped us with our sass factor. Enough so that the judges even commented on how 'aggressive and confident' we were."
The men join the women in, "I'm Still Standing," by Elton John for their finale.
"A very energetic piece," Larabee said. "It took a lot of time to find a style for it, but at the end, we were really happy with the effort we put into it at our last competition. It's the closer of our show and when we sing and dance it, it really feels like closing the show up.
Momentum finished in second place after Hastings High School led by John Marquez. This is the highest scoring competition momentum has had under director Kathy Simpson. Simpson took over the show choir just three years ago and plans on retiring this spring, for the second time in her teaching career.
"Eight weeks," Simpson said with a laugh. "I retire in eight weeks!"
"The fact that we won second place with this set in small-town Nebraska is really amazing," Price said. "It really shows how moving our message is and that what we have to say through our music is being heard."
Leave a Comment
About the Contributor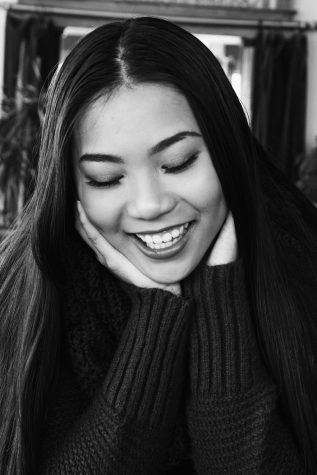 Angel Tran, Editor-In-Chief
"So live. Live. Fight like hell. And when you get too tired to fight, lay down and rest and let somebody else fight for you." -Stuart Scott



Hey...