Katie and Jackson: Friendship knows no bounds
By Angel Tran
"Katie and I met in second grade, at Lakeview Elementary," 2019 senior Jackson Mikkelsen said. "I actually transferred there because my best friend at the time was going to school there, so we went together. Obviously Katie is my best friend now."
But how did this friendship begin? It was very unlikely.
"We were riding home on the bus, back in the days when they could play music loudly on the bus, and we were listening to that song by Pink that talks about starting a fight ["So What, by Pink, 2008"]," Mikkelsen said. "I decided I wanted to start a fight so I reached up to Katie Brinkman, who is right in front of me, and pulled her hair. Then, without a breath, she whips her head around, looks me dead in the eye and says, 'Do you know the golden rule?' and I say 'No' and she says, 'The golden rule is to treat the others the way you want to be treated,' and then we became best friends."
Although they met in second grade, they didn't really become best friends until ninth grade.
"We both lived in north Lincoln and we had to carpool everywhere," Senior Katie Brinkman said. "Freshman year, it was like, 'yeah I'm in a car with you everyday because we have the same classes, and we are in theatre together, and then we live by each other so of course we became besties."
"For the restie," Jackson added with a laugh, "Those were the times, our poor parents had to drive us everywhere."
Because of their nonstop schedule, these two became an unstoppable theatre duo.
"I've been doing theatre for a very long time," Brinkman said. "I've been in every show since I've been at Lincoln High, in some way or another."
"Katie performed at Carnegie Hall in ninth grade," Mikkelsen added. "It's very impressive, probably the coolest thing she's ever done." Katie laughed.
"He's the president, I'm the vice president, and together we have been able to contribute
to this amazing department in so many ways," Brinkman said. "It's amazing because it is so student-led and you get to have such a big voice, and there are so many leadership responsibilities which is awesome because you feel like you're actually making a difference, but with that, there are is also this grand responsibility."
"We work very hard to make sure the theatre is always moving quickly and efficiently," Mikkelsen said. "It's one of the biggest commitments I think you can have as a high schooler, probably within the entire school."
"I think Lincoln High Theatre is such a big part of what Lincoln High is," Brinkman added. "We have always had a strong community, it's always been really inclusive, and without Lincoln High Theatre, I don't think Lincoln High would be what it is, especially for me."
So where will they go after graduation in May?
"I'm interested in pursuing a career in musical theatre after college," Mikkelsen said. "This year I have gone through a really intense college audition process which has consumed a lot of my time and energy. On the weekends I work at Paint Yourself Silly and take private singing and dance lessons."
Katie also has some big goals for the future, and a powerful work ethic.
"I've played the piano and figure skated for 10 years," Brinkman said. "I'm also going to St. Olaf in Minnesota in the fall which is exciting."
Although they're not quite sure exactly where they will be in terms of distance from each other, there is no doubt that they will stay best friends.
"Jackson and I are BFFs for life," Brinkman said. "Along with Mae Stokes and Carmen Blum, I can't imagine life without them."
Leave a Comment
About the Contributor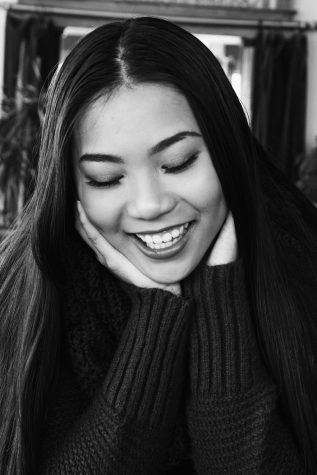 Angel Tran, Editor-In-Chief
"So live. Live. Fight like hell. And when you get too tired to fight, lay down and rest and let somebody else fight for you." -Stuart Scott



Hey...