LHS Students share talents, creativity through art challenge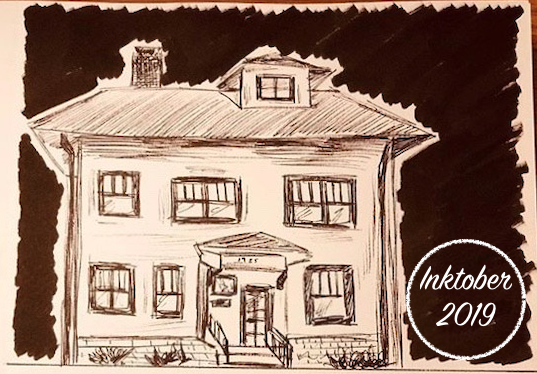 By Audrey Perry – Feature
Each autumn, millions of artists await for October to arrive, a month in which a challenge greets them that not only stimulates their creativity, but allows them to share their talent with the world.
Inktober is a challenge created by Jake Parker, where in 2009, he made a goal to post artwork during the month of October to encourage himself to build new habits, and think more creatively within his own art method of inking.
"Inktober is where you are given a list of daily prompts," junior Inktober participant Jude Rotert said. "You can make your own, or you can go by the official prompts. You draw whatever you think is related to those prompts and you can do whatever you want with it. It gives you a lot of freedom with your artistic abilities."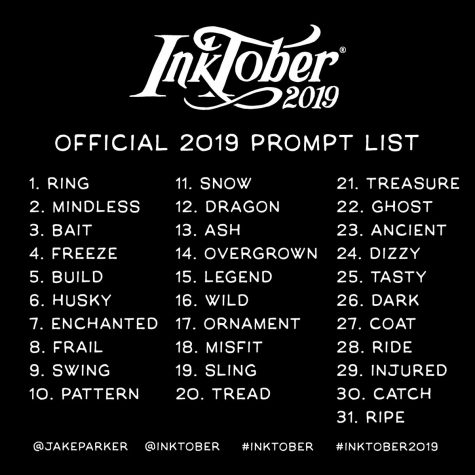 Since Inktober has built recognition and a following, Parker has started creating daily prompts, and encourages artists to share their work on social media. Throughout the years, the page on Instagram with the hashtag "#inktober" has built up over 17.9 million posts. Among that multitude of participants, is junior Natalie Leininger, who became part of the Inktober community for the first time this year.
Leininger is heavily involved in the art community in Lincoln. At LHS she takes art classes, has her own successful art page on instagram, @worldinbloom, where she shares many of her, mostly water-color pieces, and is looking to make her mark in art school after completing high school.
For Leininger, Inktober is a tool for her to not only prepare her sketchbook in a fun way for college applications, but also, to try working in a method different to her usual style.
"I feel like this was a way for me to work in my sketchbook without feeling like [it was] this giant idea," Leininger said. "The idea was given, I could interpret it and I could just create."
Leininger has decided that she enjoys the process of using ink, in how it forces her to be methodical.
"I like this idea that even if you mess up you can't erase it, so you just have to work with it," Leininger said. "I think it's a cool skill and usually I would be scared of it, but now I feel like I'm embracing it."
Many artists feel similarly to Leininger, Inktober opens new doors and opportunities for artists to deviate from what they are comfortable in. Inking expands their creativity, or even just strengthens pre-existing skills.
In junior Tonia Lewy's experience, Inktober gives an opportunity to expand on her skills and to boost confidence in her artistry.
"I've gotten better at drawing without an under-sketch," Lewy said. "I guess, I'm proud of my work. It's nice to show off something that I'm proud of."
And this viewpoint, is really what is at the heart of the goal for Inktober. On the main website, an amplified quote greets viewers.

For many artists, this mantra is important, as there is a common struggle of mental block. Just like some students struggle to write an essay, or procrastinate because it's hard to come up with ideas, even passionate artists can fall into a rut, where it's hard to stay active and frequently create new things.
Avid artist, junior Jude Rotert is familiar with this situation.
"At some point last year I was suffering a major art block because of my depression issues," Rotert said.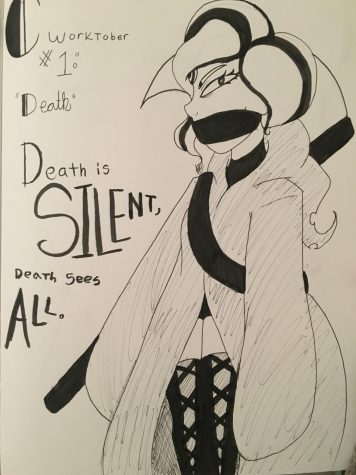 The fluidity and freedom of Inktober prompts and the community surrounding everyone who participates encouraged Rotert to start making art again.
"Doing inktober got me back into doing [art]," Rotert said. "It's a challenge, but it can also be used as a tool. Drawing something everyday, for a certain prompt, is a good way for someone to get back into the swing of [it]."
The resources for a fun, easygoing challenge make it easier for those with art block and even non-artists to become confident and start creating. The community encourages those without experience to get involved.
Rotert feels very strongly that no one should be afraid to create, or be judged for their experience or efforts.
"I don't think there is any way to do inktober wrong because when you think about it, art is subjective," Rotert said. "In my opinion it shouldn't be judged, especially with inktober because it's all up to the interpretation of the artist. It's supposed to be vague. Prompts are these one word things where you can do anything with it. It's supposed to be that way to leave room for people to have the freedom to do what they want."
For the artists within Lincoln High, there is a community found amongst Inktober, because of its openness and encouraging of other artists. And, for many people, this is why they find it easy and fun to share their work with others and on social media.
"I choose to share my work on social media because I think that just as much as I enjoy looking through and seeing other people's work, I get that same feedback," Natalie Leininger said. "It's kind of a way to communicate with other artists."
Rotert feels this support as well.
"It's just a nice congregation of people connecting over a tiny thing," Rotert said.
Junior Anika James, who is a student in the International Baccalaureate Program, decided to join this community after seeing the variability of the challenge.
"The challenge has become really popular and so people can do what they want with it and there are a lot of spin off versions as well," James said.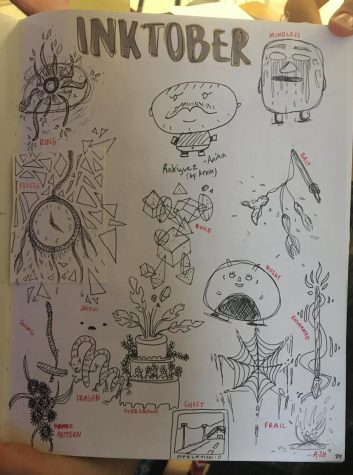 Now James has taken it on for a component of her CAS Project, an assignment for the IB Program.
CAS stands for Creativity, Action and Service. IB Students take part in this by writing about experiences in which they have a goal and an action plan. They carry that out that goal or idea in their own interpretation. After it is completed they reflect on how they reached their goal and how it has changed them.
According to the CAS Handbook this reflection, "informs students' learning and growth by allowing students to explore ideas, skills, strengths, limitations and areas for further development and consider how they may use prior learning in new contexts."
In her experience, Inktober has helped James with her self-reflection and building new skill sets that she wants to use when applying for college.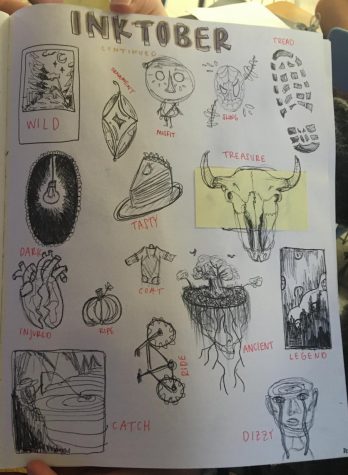 "If you think about it, when we are applying for college we talk about what community service do we do, or what artistic things we do," James said. "So I think it is to better develop skill sets."
For students involved with Inktober at Lincoln High, and outside as well as people with art experience and others with none, Inktober has opened many doors. Even though Inktober is such a small, casual project for self improvement, it has grown not only to global recognition, but also in ways of helping participants make great strides in creativity. The community that has grown strong around each other is always looking for more artists to join in, and fortify the connections they've made with one another.
"I would definitely recommend it," Rotert said. "Even if you are not an experienced artist you can just pick up a pen and just look up a prompt and get and idea. It's really easy to do. I would recommend at least try it out because you never know what could happen."
Leave a Comment
About the Contributor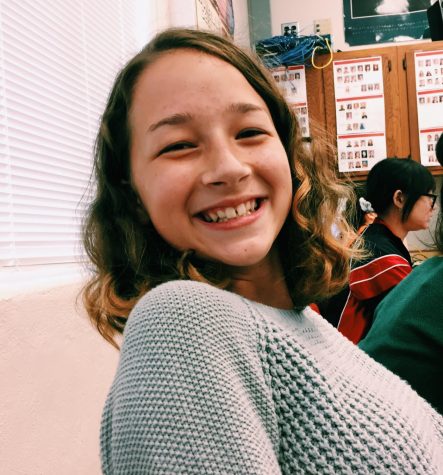 Audrey Perry, Editor-In-Chief
Hello! My name is Audrey Perry and I am an IB Junior at Lincoln High. It is my third year with The Advocate and I am currently the Editor-In-Chief on staff....