OPINION: Looking back on America's 2020 Presidential debates, what we must keep in mind
Ever since the first Presidential debate this year, reactions from viewers, the media, and opposing campaigns only grew with tension. It had truly set the tone for the following debates leading up to the 2020 Presidential election. President Donald Trump demonstrated a lack of mutual honesty and sincerity as he continued to lie and give strongly misleading information. Former Vice President Joe Biden appeared to show exhaustion and frustration in reaction to Trump's discourtesy and many interruptions.
In reference to the violent and racial Charlottesville protests in 2017, Trump refused to condemn white supremacists and instead blamed the "left-wing" for violence in American cities. It was Biden who quoted the president's own F.B.I. director that the protests were led by "racially motivated violent extremism." 
Haphazard discussions, or lack thereof, of the coronavirus pandemic, the evident gender gap, and the recent report of Trump's unpaid federal income taxes were left in disarray as Trump repeatedly interrupted Biden's speaking. Biden had called Trump "a clown," and "the worst president America has ever had." 
The event that was the second presidential debate, October 22, seemed to go more accordingly with the threat of the mute button. Arguments and immature interruptions between the two candidates seemed to lessen. The debate began with talk of America's status with COVID-19. Trump had repeatedly promised a vaccine would be ready "in weeks," as Biden refutes this and states that the president's words would soon fade away. At one point, Trump had stated that people were "learning to live" with the worldwide disease.
President Trump had later been asked about immigration at the American-Mexican border, and he had played it as if the White House hadn't been extreme with their stance on the topic. Trump was quick to accuse the "cages," introduced in his term, on the Obama administration when Biden was active Vice President. Trump had continued that immigrants who were minors, separated from their parents, were "well taken care of," in "facilities that are so clean." As there is standing evidence of an unkempt environment and neglect toward the children, this shows that the president had boasted a blatant and unjust lie.
The 2020 presidential election displayed results that pleased many Americans, yet the reason for our voting must not be dismissed. Interacting with our local government, and keeping high expectations for the next administration must remain present in order to combat the pandemic of surging worldwide cases, fight against systemic racism, and protect our democracy.
Leave a Comment
About the Contributor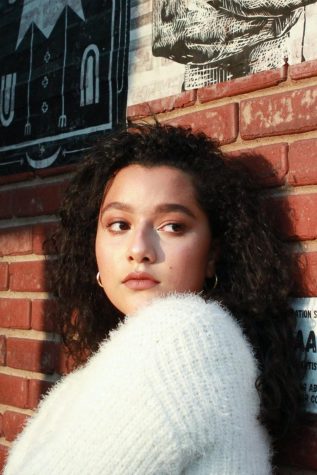 Cam McWilliams, Reporter
Hey I'm Camille, but most people call me Cam! I am currently a senior at Lincoln High. When not writing for The Advocate, I'm conducting the LHS Marching...