LHS Sophomore earns major theatre showcase distinction
Sophomore Jocelyn Tisdale did not expect to earn a major showcase distinction from the International Thespian Society when her mother signed her up for theatre in the sixth grade. In fact, she didn't even expect how much she would come to love performing.
"I was like 'I don't wanna do this,'' Jocelyn recalls. "But then my mom forced me to do it and it was like, 'wait I kind of like singing, wait I'm kind of good at singing.' So I kept singing and acting and doing shows."
Jocelyn says she came to enjoy theatre by being part of the community within it."Theatre isn't just about being in the show, it's about finding community and friends, so I've built a bunch of community through theatre and all the theaters I've gone to and done shows at."
Jocelyn joined the high school theatre community as a freshman, where for her first show, she landed a role in the ensemble of Lincoln High's production of Music Man last year. "It was really fun, even being in ensemble–you don't always have to have a good part to have fun but as you get older you get better parts. So I'm just making my way up, hopefully."
Even with her past experience, Jocelyn described the process of auditioning for school shows as nerve-wracking."It's so scary because you're in this show with everyone and it's such a good time and then you just have to start over and see if you'll get it this time."
She had previously auditioned for the One-Act Play, Second Samuel, during her freshman year but did not get in."I was so devastated but then you find community and you can do other shows outside."
It was in her freshman year when Jocelyn was introduced to Festival and the International Thespian's Society Showcase. She went to the Festival and was selected to perform without really knowing what it was about. "Last year, I didn't even know what Showcase was, and then everyone was like, 'You got a callback!' and I was like 'For what?' I didn't even know…"
The showcase is a state-wide event held in Omaha where students participate through their school by performing in individual events in front of judges. After the judges score the performances, they call back those who they want to evaluate again, and they choose the people they like the most from callbacks to be in the showcase. "It's like a whole big audition for Festival."
This year, Jocelyn sang "All Falls Down" from Chaplin: The Musical for her individual event and was chosen to participate in the International Thespian convention. Due to the pandemic, it was held over Zoom, however, Jocelyn along with people who got into Showcase, got to go to Omaha for the event.
"Last year, it was terrifying but then this year it was fun and like good ole times." Jocelyn enjoyed her experience with showcase, and she says is even applying to be part of the International Thespian Society next year.
In addition to school theatre and statewide events, Jocelyn also does community theatre.
Last year she was part of a production of Frozen in the Lincoln Community Playhouse, as well as participating in the Youth Actors Academy of Lincoln. Next year, she's hoping to do a show at the Pinewood Bowl Theatre.
"I kinda prefer community theatre over school theatre but don't tell Molly Thomas that," she joked.
With all of her current participation in and enjoyment of theatre, Jocelyn sees it as a part of her future."After showcase happened freshman year, I was like 'wait, I kinda want to do this as a career' so I've been really set on trying to do this in college and then try to do performing arts as a career. I know it's risky and all, but I feel like–it just seems like it would be such a fun life to do that."
She says she wants to pursue musical theatre at university–perhaps as a double major– and is planning to go to the East Coast, however, she would also like to study abroad."I'm in IB because I want to study Shakespeare in England…After I was in Much Ado About Nothing last fall in Lincoln High, I've been liking Shakespeare so I could hopefully do that abroad."
For now, though, she hopes to continue growing in high school theatre. "There's going to be musicals for the next two years in spring and I really, really want the leads. Hopefully next year and the year after–that's just me dreaming big though, but, you never know. You could see me in the school performances in the next couple of years when Covid's over."
In fact, Lincoln High is putting on a production of Godspell on Feb. 25, 26 and 27 if you want to watch Jocelyn and the LHS Theatre program performing.
Leave a Comment
About the Writer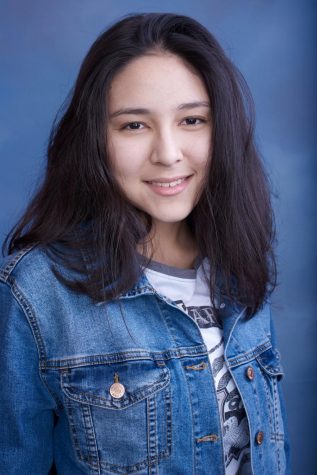 Camila Gomez, Reporter
Hello! My name is Camila Gomez and I am Lincoln High Sophmore enrolled in the IB programme.

I play the viola.

I speak three languages--English, Spanish,...