Your MUST SEE movies for December!
Hang on for a minute...we're trying to find some more stories you might like.
What's in theaters?
 Wonder (PG) 1:43 – OUT NOW

With an 85% rating from Rotten Tomatoes, Wonder has caught the eye of many.  Based on the New York Times bestseller, a boy born with facial differences named August Pullman (played by Jacob Tremblay) begins attending a mainstream elementary school.
 Justice League (PG-13) 1:59 – OUT NOW

Although having a low 37% on Rotten Tomatoes, Justice League has flooded the media with advertisements, merchandise, and heavy marketing.  Based on the DC Comic's Superhero Team: Batman (Ben Affleck), Diana Prince/Wonder Woman (Gal Gadot), Superman (Henry Cavill), Aquaman (Jason Momoa), The Flash (Ezra Miller), Cyborg (Ray Fisher).

 Coco (PG) 1:49 – OUT NOW

With a whopping 95% from Rotten Tomatoes, Coco surrounds the story of young boy, Miguel (voiced by Anthony Gonzalez) who desperately wants to become a musician like his idol, Ernesto de la Cruz (Benjamin Bratt).  Miguel finds himself in the Land of the Dead, where he looks to find the real history behind his family's name.

 Thor: Ragnarok (PG-13) 2:10 – OUT NOW

Just below Coco, Thor has earned a 92% on Rotten Tomatoes, since its release on November 3rd.  Thor: Ragnarok is the third movie in the Thor series, after Thor: The Dark World.  Thor (played by Chris Hemsworth) is trapped on the other side of the world, and is pitted against his former ally as well as fellow Avenger, The Hulk (Mark Ruffalo).  Thor will protect his home universe as well as the Asgardian civilization from Hela (Cate Blanchett), a villain.

 Murder on the Orient Express (PG-13) 1:49 – OUT NOW

Murder on the Orient Express, a more low-key release, stands behind a 58% from Rotten Tomatoes.  Starting as a luxurious trip through Europe,  passengers aboard a train work to solve a murder mystery.  When an avalanche halts the time-sensitive trip, the world's greatest detective, Hercule Poirot (played by Kenneth Branagh), attempts to solve the murder mystery.

 Daddy's Home 2 (PG-13) 1:38 – OUT NOW

With only a 17% from Rotten tomatoes, this sequel to Daddy's Home, which had 31%, has still received some positive reviews.  Biological father, Dusty (Mark Wahlberg) and stepfather, Brad (Will Ferrell) collaborate to make this year's Christmas the best Christmas ever.  This collaboration is tested when both Dusty's and Brad's polar-opposite fathers come to town.  Somehow, the four men choose to take the kids on a luxurious getaway.

 The Star (PG) 1:25 – OUT NOW

This animated journey of a donkey named Bo (voiced by Steven Yeun), won over many with a 62% from Rotten Tomatoes.  This small donkey wishes for a life beyond his small village, and finally works up the courage to break away and go on the adventure he has always dreamed about.  Meeting new friends along the way, a sheep named Ruth (Aidy Bryant), a dove named Dave (Keegan-Michael Key), along with three other camels, they accidentally save the first Christmas.

 Ferdinand (PG) 1:46 – DECEMBER 15th

You might recognize this story from the multi-award winner, The Blind Side.  This is the story of Ferdinand–a giant, yet kind and gentle bull. Ferdinand (voiced by John Cena), breaks away from his owners and goes on an adventure to find his family and home.

 Star Wars: The Last Jedi (NR) – DECEMBER 15th

This highly anticipated film is sold out in many theaters. Rey, the female lead played by Daisy Ridley, discovers her new powers, and trains to control them from the guidance of Luke Skywalker (Mark Hamill), who is conflicted by her abilities.  Meanwhile, The Resistance continues to prepare for a war against the First Order.

 Jumanji: Welcome to the Jungle (NR) – DECEMBER 20th

A sequel to the original movie in 1995, four high school kids discover the old game, and become the avatars of their choosing.  Little do they know that they must beat the game in a dangerous alternate world that Alan Parish left 20 years prior.  They can only beat the game by changing what they think of themselves, or will be stuck in the game forever.

 The Greatest Showman (PG) – DECEMBER 20th

An already highly anticipated musical, surrounding the rise of show business and a visionary coming from nothing to creating something so extravagant, it becomes everything.  Played by Hugh Jackman, Zac Efron, Michelle Williams, Zendaya, and many more.

 Pitch Perfect 3 (PG-13) – DECEMBER 22nd

After winning the World Championships, the Bellas discover that there aren't many job prospects with making music with your mouth.  Although they are splitting apart, they join together once more for a USD tour overseas, to sing together one last time.
Click here to see Marcus Theater showtimes.
About the Writer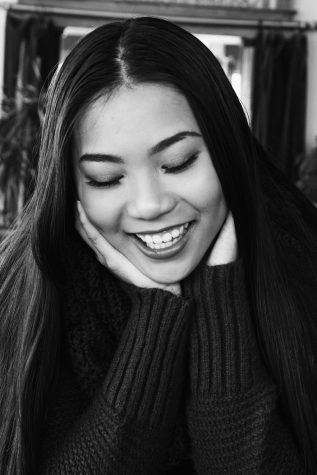 Angel Tran, Editor-In-Chief
"So live. Live. Fight like hell. And when you get too tired to fight, lay down and rest and let somebody else fight for you." -Stuart Scott



Hey...