Holiday wishes granted in Student/Child Learning Center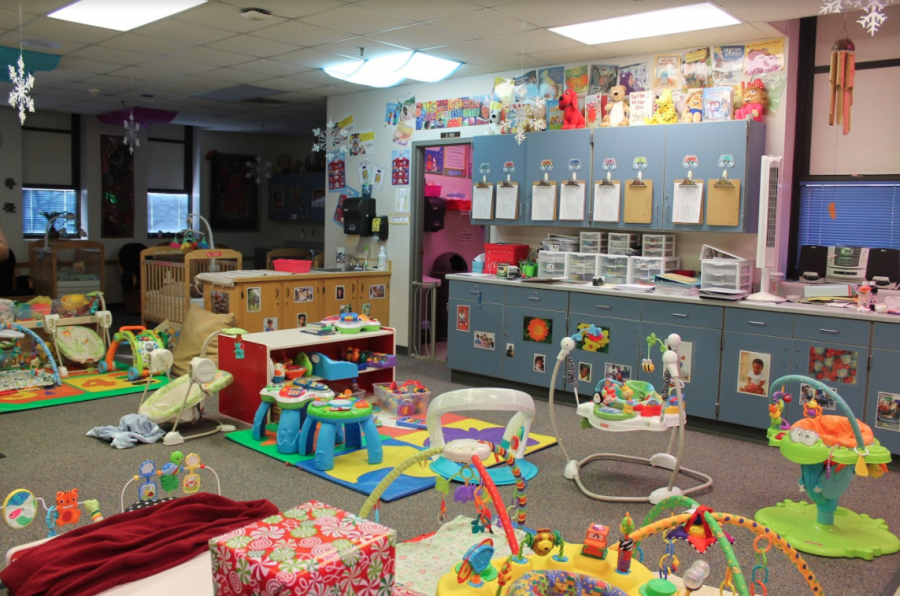 By Maicee Ingwerson – |Feature|
Just as they have for the past 25+ years, the Student/Child Learning Center at Lincoln High wishes to gift every child of a Lincoln High student this holiday. This program is a way for the LHS staff to be able to give to the students with children.
It's a way to help out, because a lot of these students don't have the funds for everything they need for their children. And, they don't want to limit this to the children who come to the center daily.
"Not only the kids in the center," Patricia Stolzer, teacher/director of the Lincoln High School Student/Child Learning Center said, "but also the ones who have babies that don't come here. So this year I think that there are, 25, 26 [kids] somewhere in there."
This means that they are wanting to be able to give something to each student with a child, not just those who have a child in the Student/Child Learning Center.
In years past, Media Specialist Paula McClung hung paper mittens on a tree in the Media Center with a gift written on the back of each, and people chose a gift to buy that way. This year there is an Amazon.com list of things that can be donated as gifts. The link was shared only with the Lincoln High staff.
This change was due in part to make it easier for the staff who organize the gifts, but also with the goal to be a little more tech savvy this year, according to Stolz.
The process for this year is not demanding. It only required the staff to follow the link below, select an item off of the list, and choose to either have it shipped to yourself for you to bring in, or to have it shipped directly to LIncoln High.
As soon as an item is bought, it will disappear from the list. And, it doesn't stop there. To make sure that this isn't too much of a burden on those who want to help out, each item is under $20.
It has also been requested that all gifts arrive at the center by December 14 to to ensure everything will be ready for the holiday party they're hosting.
The holiday party for the children and their parents will be taking place on December 20 after the third period final.
The Student/Child Learning Center is thankful for all the support that they receive.