LIKE A GIRL: Advocating for and empowering young women around the world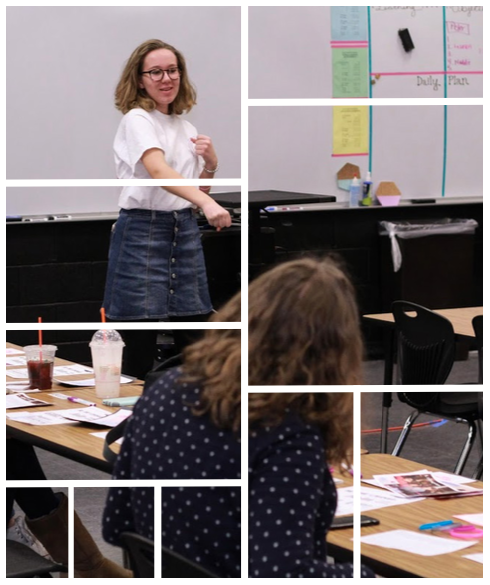 By Maicee Ingwerson – Feature
"Our organization envisions an LPS and world where all genders unite to feel empowered," Lincoln High junior and President of the Fundraising Committee for Like a Girl Lydia Rathe said.
Just this summer, an exciting new club by the name of "Like a Girl" came into existence at the fingertips of Ina Bhoopal- am. Like a Girl is a club with multiple chapters across the globe including our very own here in Lincoln. This club has positions to be filled by both genders, and is unique in the way that it is put on with only minimum adult involvement from Dr. Patrick Hunter-Pyrtle to ensure compliance with LPS guidelines.
"Like a Girl club is a group focused on advocating, raising awareness, and fundraising for girls on a local, national and global level," Lincoln High junior and President of Advocacy Committee for Like a Girl Sophia Olson said.
In this very new club that is still working hard to grow and increase involvement, already has representation from Lin- coln High in leadership roles. Lincoln High juniors Bhagya Pushkaran, Sophia Olson, and Lydia Rathe, all maintain a leadership position within the club.
The original idea of bringing Like a Girl to Lincoln came from Bhoopalam. She chose Maxey Elementary School as a test site, where she and her help, Veronica Chapman, were happy with what they saw.
From there, she went to work sending out mass texts in search of the group of people that would eventually make up the board of directors. A month before school marked the start of meetings for the board of directors, and September was the beginning for the committees.
These girls came together to bring to life the club's mission statement which reads, "Our mission is to enable all girls throughout LPS and beyond to recognize their full potential. We fulfill our mission by committing ourselves to this cause and striving to run programs that empower LPS girls and organizing activities that educate, fund- raise, and advocate for girls around the world."
Fast forward a few months, and this up and coming club has accomplished many amazing things. Just one lengthy list of impressive items completed comes from our very own Olson.
"I have planned in-district meetings with a state senator, planned an Advocacy Boot Camp, collected over 100 letters to send to state senators and officials that advo- cate for girls education and obtained a proclamation from Governor Ricketts for Day of the Girl," Olson said. All of these accomplishments have been made in the short time between when she joined in the summer of 2017 with the start of the club, to now.
Rathe has put in the work as well with her 7 months of involvement and club related meetings 3 times a week.
Even with all this, there's still more the club wanting to do. For Olson, this would include having more opportunities to speak with state senators and representatives at in- district meetings, and working to gather more leaders to go to Congress with. And in the aspirations of Rathe, is the goal to recruit, recruit, recruit, because she does not want to see all of this hard work so far left undone.
So, while this club has a great start, they are still developing and in need of more people.
"All of our leaders are juniors and without the help of freshmen and sophomores our hard work will just go down the toilet. We are all graduating in less than two years and if we don't have any underclassmen to take up our positions then the whole organization will fall through," Rathe said.
There are so many possibilities for ways to be a part of this empowering club. The committees available include Advocacy, Awareness, Elementary/Middle School, Graphics, and Fundraising. To give a little more detail as to what each committee entails, it's important to note that the Advocacy Committee is politically advocating with their work on bills, and meetings with state senators. The Awareness Committee works to do just that with making the issues of girls known. The Elementary/Middle School Committee lead clubs to empower the girls of Elementary and Middle schools. Graphics Committee does all things are that are needed. Finally, the Fundraising Committee puts on fundraisers and send what they have raised to various clubs that are empowering girls.
The different committees not only include a variety of interest and areas for people to utilize their strengths, but they have different schedules as well, making it easier to work into busy schedules. But, for some time is very limited, and commitment to a committee just isn't possible, so there is also the ambassadors program, and all this entails is basically providing help as needed.
Again, it's important to note that the club is not just seeking girls to join, they welcome both genders. The only restriction here, is that boys are not allowed in the elemen- tary programs, just for the comfort of the little girls.
Members of the club seem to have nothing but positivity attached to their experience, and highly encourage others to join.
"I would encourage high schoolers to join because it feels really good to know you're making a difference, that you're part of a bigger message to those younger than you. The fact that you can change a young girls life just by spending a couple hours a week teaching her some leadership skills and how to become empowered," Rathe said.
"I would encourage girls to join because as young people we have powerful voices and when we raise them we can make a big change" Olson said. To join, visit their website, http://www.likeagirllps.org.