Can You Feel Momentum Shifting? LHS Show Choir premieres this Thursday!
By Angel Tran
Lincoln High School's Momentum Show Choir will be hosting their premiere performance this Thursday, January 17th, at 7 p.m. for $5 per person over the age of 13 in the Ted Sorensen Theatre.
The show choir has been working on their set since the beginning of August. This premiere is the kick-off to their season, with their first competition at Elkhorn High School on February 2nd.
Senior Dance Captain, Dakota Wheat has mixed feelings about the competition season this year.
"It's bittersweet," Wheat said. "I love being in a leadership role and playing a big part of the group, but it's sad because its my last season. I'm excited to go to competitions and get to bond more as a group."
There are plenty of leaders in show choir as well.
"I've been part of Momentum since I was a sophomore," Senior Dance Captain, Emily Price said. "The premiere is one of the highlights for us during the season. It's our first time that we get to show off all of our hard work. We spend hours and hours working, and everyone is just so excited. The energy is electric."
"One of the most important parts of being a leader on this team is helping everyone get along with each other," Price said. "It's extremely important to me that we are one ensemble that has good chemistry onstage, and off stage as well."
The show choir spends time together getting food before and after rehearsals, parents host team bonding activities at homes, and almost all members spend their lunch in the choir room.
"So there are quite a few of us in the musical," sophomore Mason Madden said. "It's funny because, we'll all go to musical rehearsal, then go get food as quickly as we can, and then come back for show choir rehearsal."
With six seniors in show choir, these upperclassmen aren't just preparing the younger ensemble to compete and perform–they are also preparing them to compete and perform without them.
"We aren't just teaching the underclassmen to get along with us," Price said. "We are also teaching them to get along without us."
All proceeds from the premiere will go to funding bus rides and competition fees, as the show choir program is not funded by Lincoln Public Schools.
"It's a lot of work, but it definitely pays off," Wheat said. "It's one of the most fun things I've ever done in my life."
On average, each performer spends $400 on competition fees, costumes, makeup, wigs, and shoes. On top of that, the show choir as a whole spends more than $1,000 on travel fees.
"It's 100% worth it," Price said. "The cost is well worth the experiences and opportunities that have been given to me. Momentum isn't just my team, they're my family. My very loud, dysfunctional family who doesn't always listen to me, but is still my family nonetheless."
After the performance, desserts and coffee will be served in the Lincoln High Cafeteria. Make sure to stop by and support your favorite show choir!
Leave a Comment
About the Contributor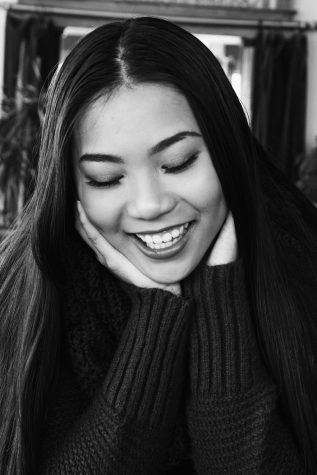 Angel Tran, Editor-In-Chief
"So live. Live. Fight like hell. And when you get too tired to fight, lay down and rest and let somebody else fight for you." -Stuart Scott



Hey...