Tampon Drive raises over 150,000 products for people in need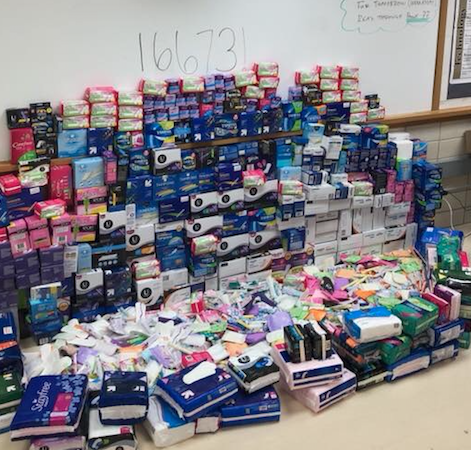 Hang on for a minute...we're trying to find some more stories you might like.
By Grace Miller – LHS News
Last week, Lincoln High partnered with Lincoln Southeast for the third year in a row for a Tampon Drive to raise awareness of period poverty and donations for The People's City Mission.
Period poverty is when a women is unable to afford products such as tampons or pads. The Feminists for Change club here raised 1800 total donations of tampons and pads combined. Partnered with Southeast, we were able to raise 166,731 products.
"Being on your period is already hard enough," Cassidy Whitney, the president of the Lincoln High Feminists for Change club said. "We wanted to help people that were already in a tough spot."
Women can spend more than $70 a year on feminine hygiene products which is a lot of money for people who are already struggling to support themselves.
The partnership with Southeast helped raise a lot more items than just having one school do it by themselves.
"I used to go to Southeast, so I thought it would be nice to get the clubs together and bring awareness to Lincoln High," Whitney said.
The Third Annual Tampon Drive this year also featured East High and their drive happened close to the same time as Lincoln High's and Southeast's. The donations will be delivered to The People City Mission next Monday, April 30.