Educators Rising students qualify for nationals in Dallas
By Audrey Perry
On February 27, two LHS Seniors were awarded with medals from Educators Rising State and an invitation to nationals in June.
Educators Rising is a program to help students who are looking to go into the pre-K to 12th grade education profession learn about education and become prepared for their lives ahead. They compete at events, "in things like making lesson plans, writing books and working on ethical dilemmas," Club Sponsor Marlyce Carlson said. "There is a lot of different things that they can do."
There are only two programs in Lincoln, one here at Lincoln High and the other at The Career Academy (TCA), though they hope to spread the program. Lincoln High's branch has only been around for one year and currently has three members: Seniors Iman Nassar and Angelica Mendoza (both reward recipients), and Junior Layne Larabee.
Nassar and Mendoza received invitations to nationals in Dallas and will be competing there in June.
"They did a group project what they did is they wrote and Illustrated a Pre-K book," Carlson said. "Anybody can compete in state if they have been part of the program. At this point the group is small enough. But, when we got to Bellevue there were a lot of students. But we are still small enough that everyone can go."
Though Larabee will not be competing at Nationals, Carlson is looking forward to Larabee taking lead next year.
"Layne has been a real leader for us," Carlson said. "He is a junior and there are two other seniors so next year he'll be a great asset to the program because he's been through it once. When we go to conferences he is always out there looking at the different things and figuring out what would be best for him."
Larabee is also looking forward to the next year and experiencing the same opportunities as were offered this year.
"My favorite part about being in Educators Rising is to learn how to be a teacher and how to better prepare myself for what to do when I become a teacher," Larabee said. "And I get to see and be with and experience being around a bunch of people that are like-minded and want to help the future generation grow."
This year the program participated in Trunk or Treat and hopes to participate in a project for Teacher Appreciation Week, May 6-10.
Leave a Comment
About the Contributor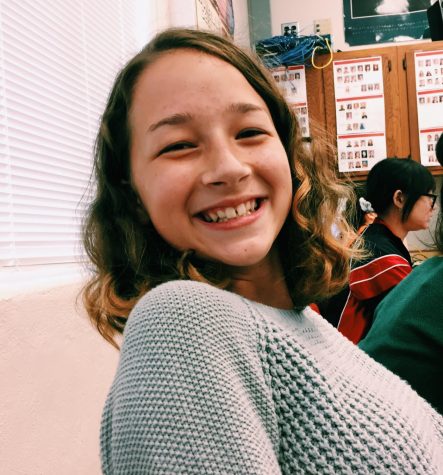 Audrey Perry, Editor-In-Chief
Hello! My name is Audrey Perry and I am an IB Junior at Lincoln High. It is my third year with The Advocate and I am currently the Editor-In-Chief on staff....