Lifting Expectations: Links Powerlifting Team dominates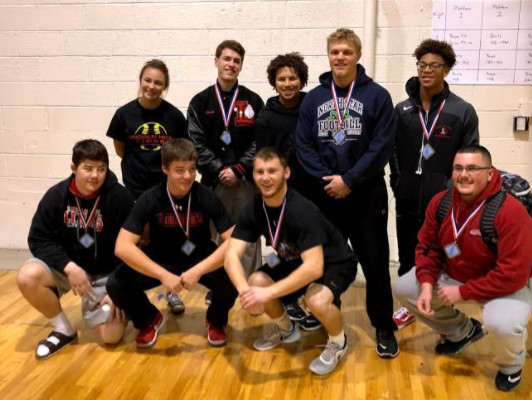 Hang on for a minute...we're trying to find some more stories you might like.
By Grace Miller – Sports
Everyone at Lincoln High has to go into the weight room at some point during their high school career. Some people don't enjoy lifting, but others love it, and they compete in meets around the Lincoln area.
The members of the Lincoln High Powerlifting Team will be competing in many meets such as one in Beatrice, Peru State, Omaha Central, and Omaha North. This year, there are going to be two raw meets both at Creighton Prep. This means that they cannot wear any sort of suits or braces at the meets, which gives all of the athletes an even playing field.
Stewart Venable has been coaching the Powerlifting Team here for two years, and he really enjoys it. He is also optimistic about the team.
"I think this will be our best season so far," Venable said.
The powerlifters are invested in improving their skills so when they are lifting, they really enjoy it and apply themselves to getting better. It also gives the athletes something to do when their other sports are not in season. They practice every Monday, Wednesday, and Thursday after school in the weight room.
Senior Cole Shank has been on the team since the beginning of last season. He enjoys lifting, because everyone on the team is very supportive of everyone. Shank's had two goals this season, to medal and get stronger. During the first raw meet of the season at Creighton Prep on December 16th, he medaled. Shank placed fifth at this meet.
Junior Ryen Hanson has been on the Powerlifting Team for one year. She joined the team because she had a weight training class and really began to enjoy lifting. Hanson said that the people who motivate her the most are Coach Venable and Coach Watson.
"They have both taught me how to be a better athlete and a better person by encouraging me to never give up," Hanson said.
The Links Powerlifters will compete at the state meet this Saturday at Creighton Prep in Omaha.