One Book One Nebraska title chosen: Governor refuses to endorse it
Hang on for a minute...we're trying to find some more stories you might like.
By Neive Rodriguez
Should a political figure be allowed to withhold honors from those who have been nominated for them because of personal conflict? Recently, Nebraska's governor and a local author found themselves in this very situation.
Entering its fifteenth year, One Book One Nebraska is a program that selects a book written by a Nebraska author and encourages Nebraskans across the state to read and discuss it. This year, the selection was, "This Blessed Earth: A Year in the Life of an American Family Farm," by Lincoln resident Ted Genoways.
The book questions if the rapidly disappearing American family farm still has a future in the United States with upcoming technologies and changing trade policies.
"The project of the book was basically to follow a farm family for a year," Genoways said in an interview with The Advocate. "To follow them from one harvest season to the next, with the idea of trying to give readers a view of the rhythm of the farm that I think many people in the city don't know about anymore."
Part of the inspiration for writing the book was that Genoways felt that journalists often didn't know about rural Nebraska while covering issues such as the Keystone XL Pipeline.
Genoways' wife, Mary Anne Andrei, was the photographer on the project. The two have also worked together on other stories about the pipeline.
"[I started] seeing a need for something that would make those people and those places more visible," Genoways said.
The book has been featured on NPR and the New York Times. It has also won James Stubbendieck Great Plains Distinguished Book Award, was featured in Smithsonian's 10 Best History Books of 2017, and the All Iowa Reads choice for 2019.
Genoways also had a book signing at Francie and Finch Bookshop here in Lincoln.
"We were happy to host Ted for his first book talk after 'This Blessed Earth' was selected for the One Book One Nebraska award," Francie and Finch Bookshop owner Leslie Huerta said. "We had a great turnout and lively discussion."
Part of being nominated to One Book One Nebraska involves receiving an endorsement from the governor. However, Governor Pete Ricketts (who has not read the book) refused to sign the proclamation.
Ricketts' communications advisor Taylor Gage declined to comment, but directed us to the Governor's comments to the Lincoln Journal Star and other newspapers.
"The book that they are proposing was written by a political activist. He's somebody who is out-of-touch, and it was not going to be something that united Nebraska," Ricketts said.
He added that Genoways "has been very critical of our national leaders and so forth."
"The strangest thing to me was the governor's complaint that doing this sort of thing, talking about these sort of things, was divisive," Genoways said in response. "And I just don't see it that way. I don't see it as divisive to have conversations about divisive issues."
Genoways thinks it's just the opposite. "To me, this was just an opportunity to raise those issues and to talk about all of the ways in which some places that I think seem small and remote, and removed from political concerns, to show that it's actually right at the center of political conversation, and is directly affected by policy decisions."
Genoways' son, Jack, is a sophomore at Lincoln High.
"My family was really irritated, especially my dad," Jack said. "We spent years on the book, only to have to governor not even read it." `
The controversy surrounding the book has given it quite a bit of positive attention as well.
"This has certainly worked out quite well for the book and attention for the book, and has sparked some conversations about it," Genoways said. "I'm pleased with how the book has been received by people who have read it, and I'm glad the Governor has brought attention to it, but I do wish this had been accomplished in a different way. I don't think that it sends a great message just to have the governor discouraging people from reading a book he himself hasn't read."
"As a journalist, for me, my interest is always talking to people who aren't being heard otherwise," Genoways said. "And, so my hope is that what this has done has given a voice to the farmers and given them some platform to speak. Farmers are spending all day long, every day, trying to get chores done on the farm, trying to manage the family business, trying to keep their families afloat. And they really don't have the resources or the time to be out advocating for themselves."
About the Writer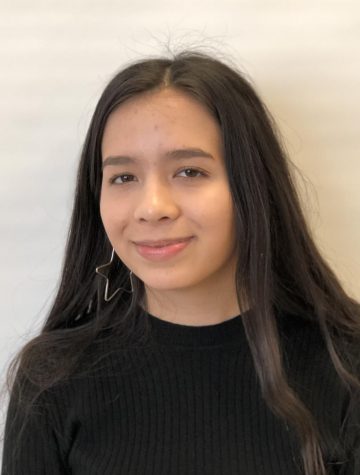 Neive Rodriguez, Reporter
Hi, my name is Neive Rodriguez and I'm a pre-IB sophomore at Lincoln High. This is my first year working on The Advocate. I participate in cross country,...