LPS cancels all classes, activities the week of March 16-22 in response to COVID-19 Coronavirus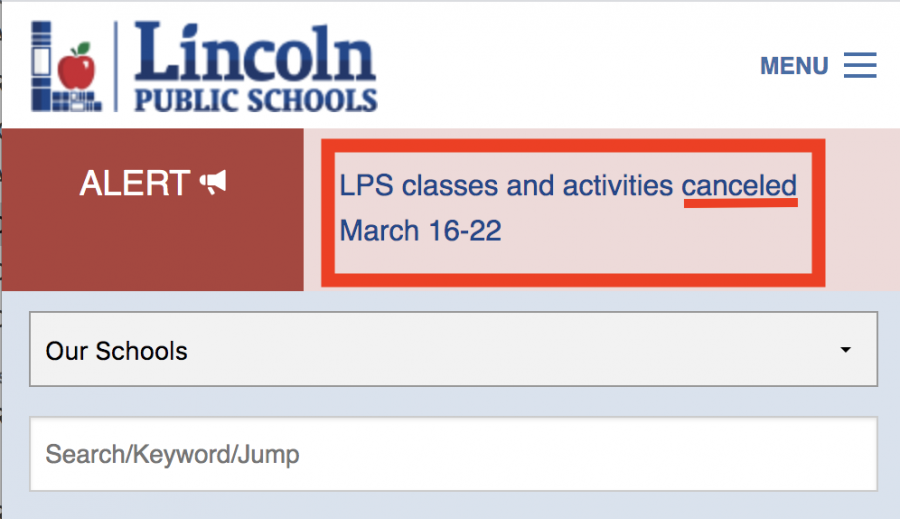 Lincoln Public Schools issued a statement this afternoon announcing the cancelation of all classes and activities for next week (March 16-22).
This includes "all practices, rehearsals and competitions being held during that time."
A decision about the rest of the semester will be shared on Friday, March 20, 2020.
We will continue to update this story as information becomes available.
The email sent to families and staff stated:
Lincoln Public Schools families,
Out of an abundance of caution in the interest of public health and safety, we have decided to cancel all student classes and activities in our schools during the week of March 16-22, including all practices, rehearsals and competitions being held during that time. This will allow us to make additional plans and decisions about the remainder of the school year regarding the evolving Coronavirus (COVID-19) pandemic.
We know that any decision we make greatly impacts students, staff, families and our community. This is a decision we did not take lightly. On Friday, March 20 we will provide updates concerning this evolving challenge that impacts all of our students, staff and families. Please know that we have been working with the Lincoln/Lancaster County Health Department, Nebraska Department of Education and the City of Lincoln to help us determine the best course of action.
Please continue to watch our website (lps.org) for updates.
Dr. Steve Joel
Superintendent